CNS' Inauguration Coverage As Biased And Pro-Trump As You'd Expect
Topic: CNSNews.com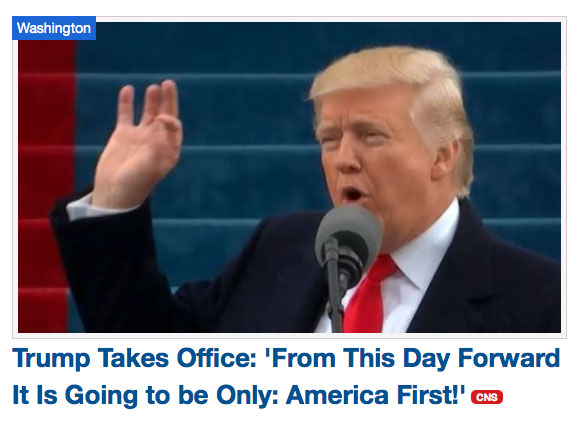 CNSNews.com's coverage of the inauguration contained numerous solicitation links to "Support MRC's Inauguration Coverage" (which seems to confirm that CNS has no editorial independence from its Media Research Center parent and is little more than the MRC in inverted pyramid form). That link goes to a page with the headline "How Will We Remember Inauguration 2017? Defend American History from the LYING LIBERAL MEDIA!" followed by "Support ACCURATE, OBJECTIVE coverage from the Media Research Center to counter FAKE news and manipulative reporting!"
"Accurate"? Only in a technical sense. "Objective"? That is, to coin a phrase, an alternative fact. One needs only look at CNS' inauguration coverage to see just how far from objectivity it was.
The coverage began with Susan Jones shamelessly touting how "When it comes to Friday's weather, President-elect Donald Trump is looking on the bright side, even if it rains." She then oozed over "Melanie's [sic] elegant blue dress with matching shoes and gloves" and rhapsodizing how "Friday's sunrise glowed pink and gold in Washington, as seen in this screen grab from C-SPAN."
Jones also gave a platform for Trump to talk about his "great" and "beautiful" Cabinet picks. Surprisingly, she actually tried to engage in objective reporting by noting Democratic Sen. Chuck Schumer's criticism of some of Trump's cabinet picks,though the overall balance of the article was pro-Trump.
Barbara Hollingsworh, meanwhile, touted how "Both President-elect Donald Trump and Vice President-elect Mike Pence will swear their oaths of office Friday on historic Bibles used by former Republican Presidents Abraham Lincoln and Ronald Reagan."
CNS then managed to squeeze four articles out of Trump's inauguration speech -- easy to do when you're simply engaging in stenography:
That was followed by an article from Hollingsworth heaping praise on the speech from right-wingers and "presidential historian Craig Shirley" (who is not identified as a conservative). It's not until the 27th paragraph of her article that Hollingworth concedes that "others voiced disappointment with the tone and content of Trump's first speech as president," and conservatives were quoting as saying Trump's speech had a "darker tone" and "did not take the high road."
CNS even managed to dredge up Samuel Wurzelbacher, aka "Joe the Plumber," to gush about how he voted for Trump because he believes in "a strong economy, a strong military and strong borders."
CNS' coverage of the outgoing Obama administration, by contrast, was uniformly negative.
CNS managing editor Michael W. Chapman repeated a homophobic smear by anti-gay minister and WorldNetDaily columnist Jesse Lee Peterson, who claimed that President Obama pardoned Chelsea Manning because "he has some type of issue going on that causes him to identify with these types of people."
Jones huffed that Obama's final tweet as president was "urging his supporters to check out his newly created Obama Foundation." Neither Jones nor anyone else at CNS has seen fit to mention the new Trump White House website promotes Melania Trump's QVC jewelry collection.
CNS editor in chief attacked Obama in two articles best summed up by their headlines: "Obama Leaves U.S.A $9,335,000,000,000 Deeper in Debt" and "Obama Was First President to Spend More on Welfare Than Defense."
CNS' Patrick Goodenough took offense to outgoing Secretary of State John Kerry praising those of his generation who "went out and fought" for women's liberation and equal rights and against the Vietnam war. His article was illustrated by a 1972 picture of Kerry testifying Senate Foreign Relations Committee hearing about the Vietnam War.
CNS did devote an article to criticism of Trump's inauguration speech, but Eric Scheiner talked to only one person, one who was apparently chosen to be self-discrediting: a Democratic congressman from Massachusetts named McGovern.
It seems the MRC's claim that it puts out "objective coverage" is nothing more than fake news.
Posted by Terry K. at 5:15 PM EST