Is Cliff Kincaid Trying to Make AIM A White Nationalist Group?
Topic: Accuracy in Media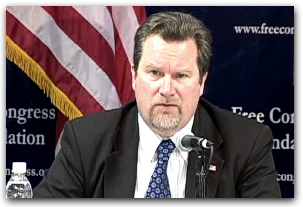 Thanks to Cliff Kincaid and his love for American Renaissance's Jared Taylor, Accuracy in Media has been flirting with white nationalism for years. AIM takes its biggest step in that direction with a Jan. 2 column by, yes, Kincaid.
He ranted that groups like the Southern Poverty Law Center focusing on white nationalism "is designed to further demonize white Americans who are waking up to what President Obama has done to them during his eight years in office," addin, "Rather than admit that Obama's legacy turned many white Americans against the Democrats, groups like the SPLC are attempting to portray racial consciousness among white people as something to fear. ... According to the SPLC, whites are just supposed to take it." Kincaid then quotes his favorite white-nationalist buddy:
Jared Taylor of American Renaissance comments that white Americans are "beginning to realize that they need an advocate for their interests, so they start searching the internet for an honest look at the facts—and they find us." He hopes to raise enough money to hire a reporter to cover various racial angles in developing stories, saying, "Groundbreaking pro-white journalism is exactly what American Renaissance—and the country—need."
Of course, "pro-white journalism" is arguably another phrase for "anti-black journalism." Maybe Colin Flaherty could sign up for that. Or Cliff Kincaid.
Is AIM chief Don Irvine OK witih Kincaid pushing his organization into a white nationalist direction? Kincaid still has a job there, so apparently not.
Posted by Terry K. at 9:25 PM EST