CNS' Managing Editor Still Hates Gays, Loves Franklin Graham
Topic: CNSNews.com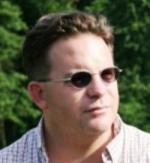 CNSNews.com managing editor Michael W. Chapman is perhaps known for two things: keeping CNS as biased as possible and an obsessive love for the hateful words of Franklin Graham. It's been a while since we checked in on his biased work, so we thought we'd take a look at his output over the last three months of 2016.
To nobody's surprise, Chapman's Franklin Graham obsession is still alive and well, with 15 of the 102 articles he wrote during that time dedicated to regurgitating Graham's words (and an additional post quoting Graham's father, Billy Graham).
The bigger surprise, though, is Chapman's embrace of virulently anti-LGBT rhetoric, with 13 posts quoting right-wing ministers and activists attacking gays and transgenders (two of which quoted Franklin Graham). A sampling:
Chapman's veering to the far-right fringe is perhaps best illustrated by two posts that uncritically quote the Zionist Organization of America, a far-right group that tolerates no criticism of Israel or its supporters and may be best known for promoting boycotts against its perdceived enemies that seem to have the unintended consequence of hurting Israel.
In a Nov. 23 post, Chapman highlighted how the ZOA demanded an apology fromHoward Dean for calling right-wingerand Trump adviser Steve Bannon "anti-Semitic." Chapman didn't mention ZOA's ideological bent (though he and the rest of his CNS employees are quick to identify the ideological leanings of liberal groups), nor did he mention that Bannon's ex-wife reportedly quoted Bannon during their divorce hearing as saying that Bannon didn't want his children "going to school with Jews." Bannon has denied this, but it's pertinent enough to this particular discussion that Chapman sould have mentioned it.
A Dec. 29 post by Chapman uncritically quoting ZOA ludicrously asserting that President Obama and U.S. Ambassador to the United Nations Samantha Power "have anti-Semitic hatred for Israel and the Jewish people" for failing to veto a U.N. Security Council resolution criticizing Israeli settlements in disputed areas of Jerusalem.
Trump's victory means we can expect CNS, under Chapman's leadership, to pull further to the right -- and since Chapman cares nothing about journalistic balance, it will pretend even more that non-right-wing opinions don't matter.
Posted by Terry K. at 6:10 PM EST
Updated: Tuesday, January 3, 2017 6:15 PM EST