MRC Laughably Declares MSNBC To Be 'State Run TV,' Forgets Fox News Under Bush
Topic: Media Research Center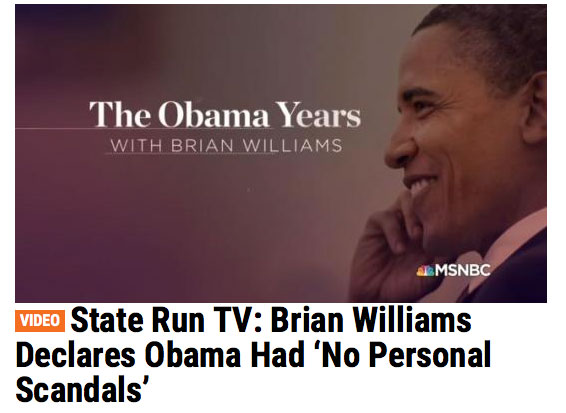 A Jan. 17 Media Research Center post by Scott Whitlock complains that "Disgraced journalist Brian Williams on Monday offered up a glowing documentary on Barack Obama that censored the President's numerous scandals and controversies." While Whitlock curiously buries the name of the network the special appears on -- MSNBC -- his headline declares it to be "State Run TV."
Whitlock ignores that by his same definition -- overly positive coverage of a sitting president -- Fox News was "state run TV" during the Bush administration. Fox News was granted numerous exclusive opportunities to hurl softball questions at President Bush, including touting of his alleged legacy and, yes, a TV special dedicated to fawning over "his extraordinarily consequential tenure."
And given how hard Fox News fought both on camera and behind the scenes to get Donald Trump elected president, it's all but certain that it will resume its role as "state run TV."
But Whitlock and the MRC will never call Fox News that, of course -- it doesn't want to do anything that would put its frequent appearances on the channel (and sister channel Fox Business) in jeopardy.
Posted by Terry K. at 11:00 AM EST