Newsmax Columnist Demands Intel Loyalty to Trump Over Country
Topic: Newsmax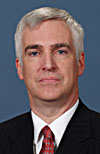 Fred Fleitz used to run LIGNET, Newsmax's now-defunct "global intelligence and forecasting" service that tried (and failed) to charge $299 a year for analysis from ex-intelligence officials. Now it seems he's reduced to shilling for Donald Trump and throwing his former fellow intelligence types under the bus.
In a Jan. 6 Newsmax column, Fleitz expresses his rage that an intelligence report on Russian meddling in the presidential election was leaked to the media, complaining that this highlights "growing tension between President-elect Donald Trump and the U.S. intelligence community," and such leaks will "only widen the rift between Trump and U.S. intelligence agencies."
Apparently, Trump isn't at fault for perpetuating the rift.
Fleitz then demands total loyalty to Trump from the intel community, before even the good of the country:
How did the intelligence officials who leaked to NBC expect Mr. Trump to react? Did they give any thought to the damage these leaks would cause to relations between their agencies and the president-elect?

President Trump will need and deserve a U.S. intelligence community that provides him with hard hitting and objective analysis devoid of politics. It's time for Director of National Intelligence Clapper and other intelligence officials to stop complaining about Donald Trump "disparaging" U.S. intelligence agencies and demand that intelligence officers stop trying to undermine our new president.

I am certain that the vast majority of intelligence officers welcome the opportunity to support Mr. Trump. If the handful of intelligence officers who have been leaking against Trump cannot accept his election and their responsibility to loyally serve the next president, they need to resign immediately.
Did Fleitz demand that the intel community be loyal to President Obama, or did he encourage them to undermine his presidency? We don't know. Perhaps Fleitz can enlighten us.
Fleitz doesn't explain if intel folks should stay loyal to Trump even as evidence mounts of the unseemly close connection between Trump's presidential campaign and Russia?
Posted by Terry K. at 5:07 PM EST