Pat Boone Tells One More Anti-Obama Lie
Topic: WorldNetDaily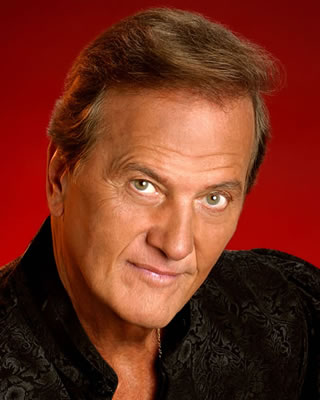 Pat Boone threw away what little credibility he had from his half-century-old stint as a pop star by becoming a rabid Obama-hater and birther. He got in one more shot on Obama's way out of the presidency.
Boone's Jan. 18 WorldNetDaily column was ostensibly devoted to responding to Rep. John Lewis' claim that he didn't see Donald Trump "as a legitimate president." Boone misquoted Lewis, claiming he said Trump was "an illegitimate president"; while the overall meaning is the same, it's not accurate, and it shows Boone cares nothing about accuracy in his political screeds.
Speaking of which, Boone then descends into full anti-Obama froth:
And, on the subject of "hacking into" or influencing elections: What does John Lewis think about the president, our current president, spending over $300,000 of our taxpayer dollars to send his own social media experts to Israel to make their political expertise on the Internet available to Prime Minister Netanyahu's opponent in the Israeli election! At his behest, these experts hired buses to transport Arabs to the polls to vote against Netanyahu – though the prime minister won anyway. What gives an American president the right to intervene so directly and overtly in another sovereign nation's election? Is it wrong for Russia but acceptable for our president to do it?

Is such meddling a right – or a high crime? And is it legitimate?

Further, is it legitimate for a president to personally create 33 new regulatory agencies by executive order – without so much as a nod to Congress? And to personally appoint 33 "czars" to head those agencies, reporting only to him and not the legislature? Is it "legitimate" for a president and his then attorney general, who had both sworn to uphold our laws, to openly and publicly state they would not enforce immigration laws they personally objected to?

What makes for "legitimacy," Mr. Lewis? Words and expressed intentions before assuming the presidency, or actual deeds and misdeeds and betraying the promise to "uphold the Constitution" during eight years as president?

I earnestly hope you'll pray and think carefully before you continue to foment rebellion and rejection of the duly elected incoming leader of the United States – and ask yourself honestly which of the two men, the current president or the incoming one, should be thought of as "illegitimate"?
As we've documented, the State Department under Obama gave $350,000 in grants to a group to encourage peace negotiations between Israel and Palestine. After that grant ended, the group used the infrastructure set up for that campaign to run an anti-Netanyahu drive during the 2015 Israeli presidential election. A Senate investigation found that no grant money was used for the election, and theh group was not prohibited by the grant from later using that infrastructure for the anti-Netanyahu campaign.
And while former Obama campaign workers who later formed a political consulting firm worked with the anti-Netanyahu campaign, there's no evidence that Obama "sent" them there, as Boone claims.
Also, Boone provides no evidence Obama was "betraying the promise" to uphold the Constitution.
Perhaps the most shocking thing about Boone's column, though: He doesn't go birther, despite the golden opportunity to do so amid his challenging Obama's legitimacy.
Posted by Terry K. at 5:32 PM EST