AIM Trots Out Ethically Challenged Journalist To Lament 'The Sad State of Modern Journalism'
Topic: Accuracy in Media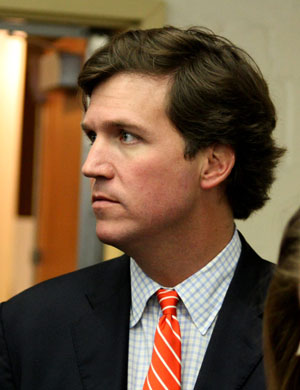 Yes, this Aug. 8 Accuracy in Media article by Alex Nitzberg really exists:
Criticizing the current state of modern journalism, Tucker Carlson told Accuracy in Media (AIM) that journalists' obsequious behavior, blatant bias and monolithic worldview have compromised the integrity of the nation's fourth estate.

Carlson, a member of the Fox News team and a veteran journalist who co-founded The Daily Caller, asserts that many journalists bask in the presence of "the powerful" and are "…afraid to challenge anybody in power."

[...]

He explained that regardless of the election's outcome, the media's advocacy has destroyed its claim to objectivity.

Pointing out that a conflict of interest will arise if Trump wins and the largely anti-Trump media must report on his presidency, he said, "… how are they gonna cover that, the administration? Can they? Haven't they discredited themselves?"

[...]

Carlson believes journalists should seek the truth, "even if it leads them into uncomfortable places and especially if it leads them to places they didn't expect to arrive…that's what I thought journalism was, pursuit of what's true, of accuracy, but not just accuracy, of truth."
This would be the same Tucker Carlson whose Daily Caller has published numerous false and dubious claims as well as right-wing conspiracy theories. More recently, Carlson has admitted that he doesn't permit Daily Caller writers to publish anything critical of Fox News because he co-hosts a show there. So much for Carlson's pursuit of the truth.
That's who AIM thinks should opine on what the headline calls "the sad state of modern journalism": someone who's playing a key role in perpetuating it.
Posted by Terry K. at 3:34 PM EDT