The ConWeb Censors How Badly Benghazi Movie Tanked
Topic: The ConWeb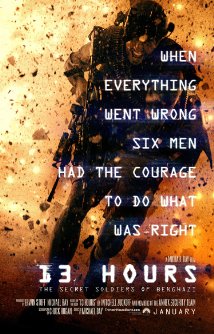 We've detailed how the ConWeb plugged the heck out the new film "13 Hours," about the attack on Benghazi, and praised it for functioning as "rightwing propaganda." But the ConWeb won't tell you one key thing about it: how well it did at the box office.
That's because it didn't.
In its opening weekend, "13 Hours" -- which cost $50 million to make -- made just $19.2 million, despite having the action-film credentials of Michael Bay behind it and despite a wide opening on more than 2,300 screens. This past weekend, the film took in just $9 million. That does not bode well for the prospects of making back its production costs.
Forbes thinks that one reason the film is tanking is that it's "trapped by its inherently political origins" and how the film was marketed to conservatives and the right-wing media outlets who praised it as a way to torpedo Hillary Clinton's presidential campaign. Remember the headline of Drew Zahn's WorldNetDaily review of the film was "How can Hillary possibly win after this?" Forbes adds: "In short, the film arguably wouldn't have existed save for the controversies surrounding the 2012 terrorist attack, but it was the existence of said controversies that prevented the film from crossing over beyond the would-be converted."
You won't read any bad news about "13 Hours" in the ConWeb, however. WND, Accuracy in Media and NewsBusters have all censored news of the film's tanking. CNSNews.com published the usual Associated Press stories on weekend box office takes, one of which noted that the film "failed to make a large impact." But they were never given a link on the CNS front page, which means they may as well not have been published at all given how unlikely the typical CNS reader is to read anything on the site that didn't appear on the front page.
The film's flop hasn't stopped the ConWeb from promoting it, however. The Media Research Center's Tim Graham whined in a Jan. 18 NewsBusters post about how a Washington Post film reviewer told the truth about the film's political agenda. Even though that post was written after the opening weekend numbers came out, Graham made sure not to mention that his beloved film tanked.
That's ironic, because the MRC has a history of mocking paltry box office takes when they involve films they don't like.
Posted by Terry K. at 7:37 PM EST
Updated: Monday, January 25, 2016 7:43 PM EST