MRC's Response To Our Post On Its Crowdfunded Film Is A Huge Fail
Topic: Media Research Center
So the Media Research Center took the time to respond to our post -- well, the Huffington Post version of it -- on the MRC's attempt to crowdfund for a upcoming documentary on coal miners purportedly harmed by President Obama's clean-air policies.
Huffington Post Uncorks on Upcoming 'Right-Wing' MRCTV Documentary -- Without Seeing It

Look out, the leftist media has discovered an anti-Obama media plot. On Sunday night, The Huffington Post published an article on our sister organization MRCTV with the headline "Right-Wing Media Org Is Crowdfunding to Distort Obama's Record on Coal." They began:

The right-wing Media Research Center is getting into the crowdfunding business, setting up a Kickstarter page to raise $15,000 for "completing the production and marketing" of a "short documentary" about "the devastating human toll of the EPA's war on coal," to be called Collateral Damage.

MRCTV crews went to West Virginia to report on the economic dislocation caused by the Obama administration's climate-change policies, inspired by Obama's campaign promise in 2008 to bankrupt coal companies through environmental regulation -- a promise he succeeded in imposing, to cheers from the Left.

Despite the inconvenient truth that the documentary isn't available for The Huffington Post to view, they claim "it looks like this documentary will be on the dishonest side." They find it completely defensible for Obama to claim "You know, the irony is that what's actually hurt coal is not any EPA rules." They also complained "apparently nobody has told the MRC that Obama is not running for re-election, so bashing him seems rather pointless."
A few observations on it:
Not only did the MRC not name us as the writer -- ironically, the MRC's post is anonymously credited only to "NB Staff" -- the post falsely portrays our post as the official opinion of the Huffington Post. In fact, we are not employed by HuffPo; we're one of hundreds of writers who post their content there without compensation.
On top of that, the MRC did not provide a link to our post so readers could see it for themselves.
That meant that the MRC's readers would not be able to see that the anonymous MRC writer avoided addressing the two main issues we brought up: why the MRC, which raised more than $15 million last year, couldn't allocate a measly $15,000 to finish its film and resorted to crowdfunding instead; and why the MRC took President Obama's statement about EPA rules not being the main culprit in coal's current downfall out of context and hiding fracking is also a major culprit and that he wants to retrain coal miners.
Of course, the MRC doesn't have to trust us on coal mining. It can look to its own ideologically aligned sources, like the Washington Examiner, which similarly admits that "the precipitous drop in oil prices" has driven the current loss in mining jobs.
The MRC can also turn to one of its own, CNSNews.com editor in chief Terry Jeffrey. His May 6 article on how "The United States has lost approximately 191,000 jobs in the mining industry since September 2014" includes a handy chart that shows that -- oops -- current mining industry employment is higher than it was during much of the presidency of Republican George W. Bush: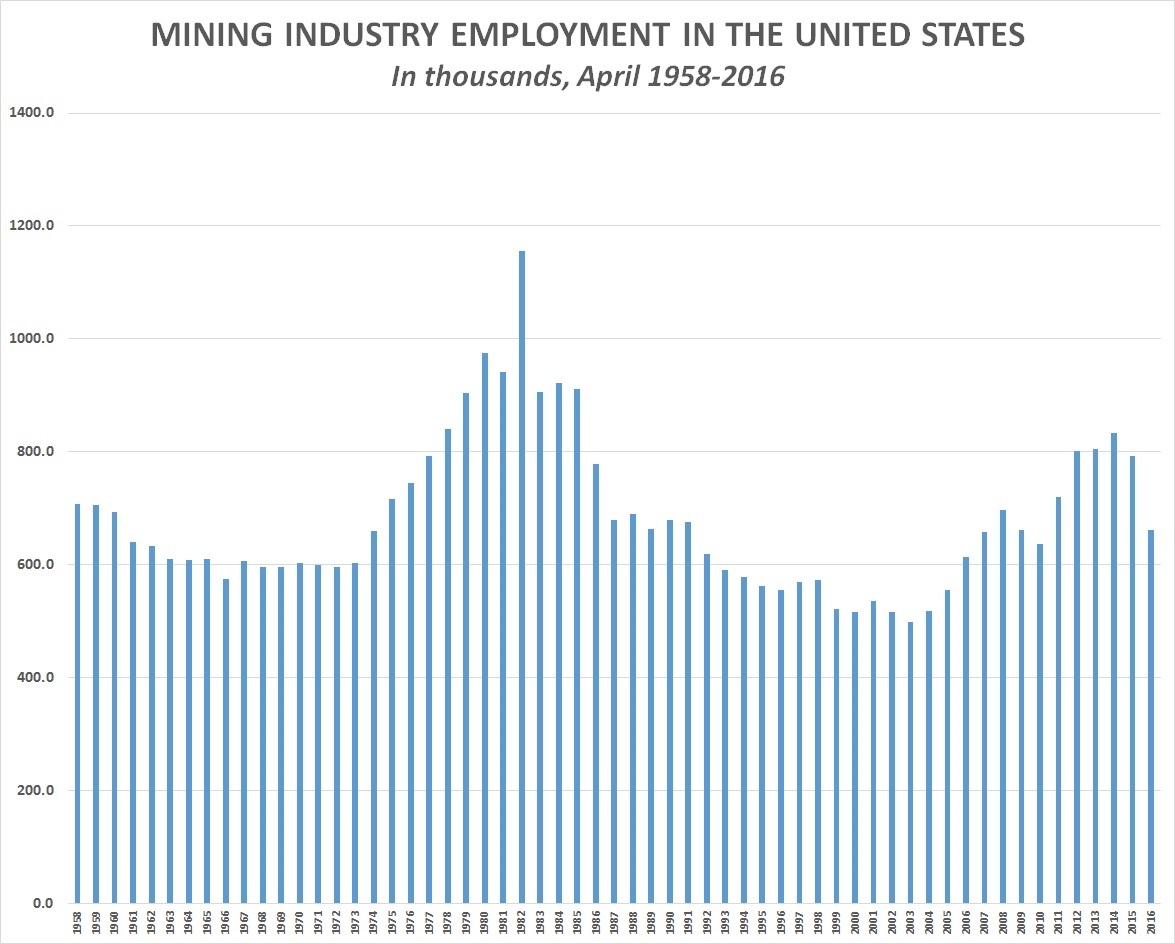 Finally, the MRC's complaint that I criticized its yet-to-be-completed film without having seen it is rather rich given the MRC's history of bashing films its employees couldn't be bothered to see beforehand.
So, yeah, pretty much a fail all around.
Posted by Terry K. at 2:17 PM EDT