MRC's Graham Baselessly Attacks Anita Hill Again
Topic: Media Research Center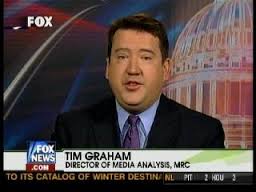 The fact that Anita Hill has never been proven wrong about her sexual harrassment allegations against Clarence Thomas hasn't kept the Media Research Center from holding a grudge against her for more than two decades. For instance, MRC official Tim Graham branded Hill as a liar despite offering no proof (or any consideration of the possibility that Thomas is the one who's lying by denying Hill's accusations), and Scott Whitlock baselessly suggested that Hill's only motivation was money.
With the news of a TV movie in the works about the Hill-Thomas conflict, Graham was in grump mode in a March 14 NewsBusters post:
HBO is making another liberal propaganda flick – and it's sloppy seconds to Showtime. Lesley Goldberg of The Hollywood Reporter had the exclusive: Kerry Washington, star of ABC's Scandal, will play Anita Hill in the movie Confirmation.

In 1999, Showtime aired a similar "fact-based" film called Strange Justice, based on the Clarence Thomas-attacking book by liberal reporters Jill Abramson (later executive editor of The New York Times) and Jane Mayer.

The film is expected to detail "the explosive 1991 Clarence Thomas Supreme Court nomination hearings (at which Hill testified), which brought the country to a standstill and forever changed the way people think about sexual harassment, victims' rights and modern-day race relations."

Translation: the sympathetic star won't be seen as a liberal activist who wanted to sink the Thomas nomination anonymously, but was forced into testifying and offered unsubstantiated accusations of sexual harassment by Thomas (which remain unsubstantiated, but endlessly regurgitated by liberals.)
Needless to say, Graham offers no evidence that Hill was solely "a liberal activist who wanted to sink the Thomas nomination." Indeed, all he's doing is regurgitating Thomas' own attacks on Hill -- as if Thomas' word should automatically be trusted over that of Hill's.
But then, the MRC has always denigrated anyone who makes sexual harrassment claims against its favorite conservatives. In 2011, for instance, the MRC similarly denounced harrassment claims made against would-be GOP presidential candidate (and personal friend of MRC chief Brent Bozell) Herman Cain as "unsubstantiated" -- even though it was on record that the National Restaurant Association, while it was headed by Cain, reached monetary agreements with two women to settle harassment claims -- and the MRC's Dan Gainor similarly played the gold-digger card against Cain's accusers.
Posted by Terry K. at 9:12 PM EDT
Updated: Sunday, March 15, 2015 9:13 PM EDT