MRC Tries to Raise Money Off Our Blog Post
Topic: Media Research Center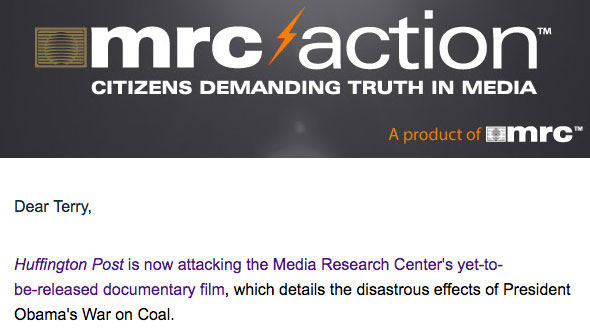 This may be a first for us -- the Media Research Center is using something we wrote to raise money.
On Aug. 12 MRC Action's David Martin sent out a email complaining that "Huffington Post is now attacking the Media Research Center's yet-to-be-released documentary film, which details the disastrous effects of President Obama's War on Coal." The email links to the anonymous NewsBusters post criticizing the Huffington Post version of our post on the MRC's crowdfunding campaign for its upcoming Obama-bashing film on the coal industry. It makes sure to call HuffPo a "well-known leftist news outlet."
Martin largely rehashes that anonymous NewsBusters post, which was so poorly written that it failed to include our name or link to the offending post, dishonestly attributed our view as being the same as that of HuffPo (in fact, we're just one of the hundreds of bloggers who get paid nothing to post there, so we're not even a HuffPo employee), and igores the main points of our post: why an organization that raised $15 million last year can't come up with the $15,000 it's trying to crowdfund on its own, and that the trailer misrepresented President Obama's views on the coal industry and falsyly portraying him as the sole cause of the current collapse in coal-mining jobs (which are still higher than they were under much of the Bush administration).
But why let a lack of facts get in the way of fundraising? Martin proceeds:
Despite not having viewed the documentary, HuffPo believes it "will be on the dishonest side," and is hard at work trying to prevent this important MRC project from happening. We're counting on you to help us ensure that Huffington Post doesn't get its way.

They also claimed that criticizing Obama is "rather pointless," because he is not running for re-election. The point isn't to criticize Obama; it's to shine a light on the impact that reckless policies have on real people's lives!

We can't let these die-hard liberals stop this important project. These people's voices need to be heard. That's why we're asking you, our faithful supporters, to help us fight back against Huffington Post and push on with the production of this important film.

The MRC must raise $15,000 by the end of August in order to continue production of this important short film. We need your help to achieve this goal.
No, Mr. Martin, neither we nor HuffPo (who I don't speak for, let alone dictate its entire editorial agenda, as Martin and the MRC seem to think) are "trying to prevent this important MRC project from happening." At no point did we do anything even so benign as tell anyone not to fund your little crowdfunding effort. We simply told the truth about it.
And if Martin wants to talk about "reckless policies," will the MRC's film mention that fracking has impacted the coal industry by sharply reducing natural gas prices that make gas a better, lower-polluting option than coal?
If the film turns out to be a reflection of the MRC's attacks on a single critic, it will be a very dishonest one indeed.
Posted by Terry K. at 9:59 PM EDT
Updated: Sunday, August 14, 2016 10:01 PM EDT