CNS Promotes Another Mel Gibson Project While Hiding His Ugly Personal History
Topic: CNSNews.com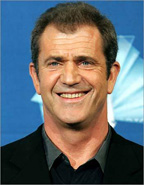 In June, CNSNews.com's Mark Judge was waxing enthusiastic at the idea that Mel Gibson is planning a sequel to "The Passion of the Christ." Now, Judge is back again to plug another Gibson project in a July 29 CNS blog post:
Lions Gate has just released a trailer for "Hacksaw Ridge," the forthcoming film directed by Mel Gibson. It tells the true story of Desmond Doss (Andrew Garfield), a conscientious objector who served in World War II by rescuing wounded soldiers. In Okinawa Doss saved 75 men without firing or carrying a gun.

The film follows Doss from his childhood in Lynchburg, Virginia to the battlefield on Okinawa. According to Time magazine, "His love story with a local nurse (because Hollywood) and his Christian faith (because Mel Gibson) feature prominently."

"Hacksaw Ridge" opens November 4.
Just as he did in his earlier post, Judge makes no mention of Gibson's ugly personal history, which includes anti-Semitism and verbal abuse of a ex-mistress.
Why bring this up? Because the Media Research Center has a blatant double standard when it comes to mentioning unflattering past activities. Most recently, the MRC's Kristine Marsh complained on Aug. 10 that CNN's Brian Stelter quoted Dan Rather while not mentioning "his botched attempt to create a scandal surrounding then-sitting President George W. Bush as the election loomed a scant few months away."
"Reversing Rather's reputation seems to be one of the media's priorities in recent months," Marsh grumbled. But it seems CNS and the MRC are trying to fix Gibson's reputation by uncritically promoting his new film projects.
CNS isn't anone, though: Accuracy in Media's Specer Irvine also plugged the trailer for Gibson's new movie while also omitting any mention of his ugly past.
Posted by Terry K. at 6:02 PM EDT
Updated: Thursday, August 18, 2016 6:06 PM EDT