Even Other Conservatives Think Bozell's Column on Malia Obama Is Dumb
Topic: Media Research Center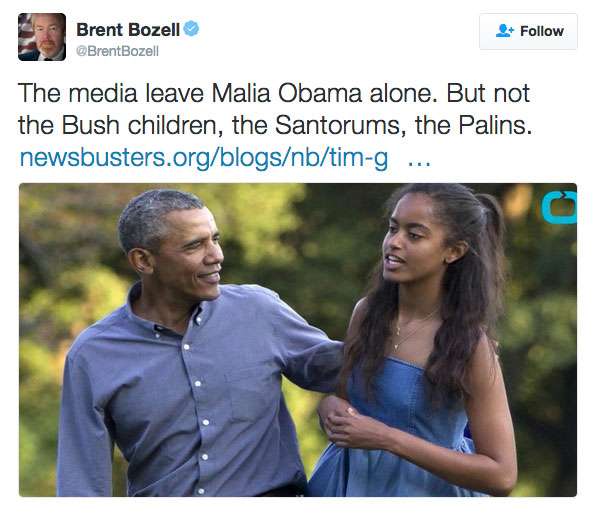 In their Aug. 19 column, Tim Graham and Brent Bozell complained that "the press refused to touch" the story of "blurry pictures of 18-year-old Malia Obama puffing some sort of cigarette at the Lollapalooza music festival in Chicago," as well as "dancing suggestively to a rap song."
Graham and Bozell revealed that they're still butthurt 15 years -- 15 years! -- after the Bush twins were busted for underage drinking:
In the middle of 2001, the media pointed at and mocked Jenna and Barbara Bush, daughters of former President George W. Bush, when they were cited for underage margarita drinking in Austin, Texas, at age 19. The New York tabloids loved it. The story was headlined ''Double Trouble'' by the New York Daily News and ''Jenna and Tonic'' by the New York Post. The networks jumped all over it, underlining that this was the public's business because the twins had entered the police blotter, and because their father is a recovered alcoholic.

CNN's Wolf Blitzer also sounded the alarm: "Police in Austin, Texas today cited President Bush's twin daughters for violating state alcoholic beverage laws. Questions about the incident remain off limits at the White House. As CNN's Anne McDermott reminds us, all first families struggle to retain a little privacy." Apparently CNN believed the Bush family should be an exception.
As they continually have for, yes, the past 15 years, Graham and Bozell ignore the obvious: 19 -- techinally an adult -- is different than 18, Jenna Bush was on her second alcohol-related violation in five weeks, and they rather blatantly drank underage in a bar with their Secret Service detail in tow.
In promoting the column, Bozell tweeted: "The media leave Malia Obama alone. But not the Bush children, the Santorums, the Palins."
The stupidity of this was too much even for Bozell's fellow conservatives, like Betsy Rothstein of the Daily Caller, who, after citing numerous media references to Malia's escapades, called Bozell's tweet "the dumbest commentary of 2016" and responded: "Hey Bozell, Google is your friend."
Posted by Terry K. at 9:50 PM EDT