WND Again Disappears Far-Right Israeli From List Of People Banned From Britain
Topic: WorldNetDaily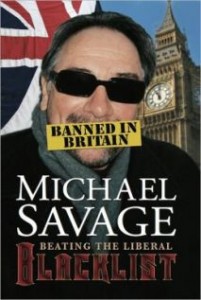 A Dec. 13 WorldNetDaily article reports on an invitation by the Oxford Union to right-wing radio host Michael Savage to take part in a debate over NSA leaker Edward Snowden, lamenting that "The popular, nationally syndicated San Francisco-based talk host was banned in 2009 from entering the United Kingdom by Prime Minister Gordon Brown's government along with Muslim extremists and leaders of racist groups for 'seeking to provoke others to serious criminal acts and fostering hatred.'"
That generic description obscures the fact that another WND favorite is on the banned list.
As we documented when the list first appeared in 2009, it includes Mike Guzovsky, aka Yekutiel Ben Yaacov, a one-time leader of the now-outlawed far-right Kahane Chai movement in Israel. Guzovsky/Ben Yaacov has been a trusted source for WorldNetDaily's Aaron Klein -- so trusted that Klein endeavored to whitewash his extremism. Klein has quoted the man under both his Guzovsky (Guzofsky) and Ben Yaacov (Yekutel Ben Yaacov) names, failing to explain that they are the same person.
Klein ran to his source's defense at the time, whitewashing the Kahane movement as a group that merely "seeks to ensure that Israel retains biblically-rich territories, such as the West Bank and Jerusalem" -- without mentioning it also seeks to expel Arabs from Israel. Klein claimed without substantiation that "The only camps Guzofsky currently runs are to train dogs to protect Jewish communities in the West Bank"; but in a 2004 New Yorker article, Guzovsky bragged that "The Arabs are very scared of dogs. Muslims think they're unclean."
(Remember, Klein has expressed his Kahanist sympathies, so Guzovsky's views are hardly alien, let alone odious.)
As WND's articles about the ban have centered on Savage, WND has disappeared Guzovsky's name from the banned list, speaking of its non-Savage members only in vague terms.
So is WND conceding that Guzovsky is a racist by saying that "leaders of racist groups" were banned? Perhaps, but it apparently doesn't have the guts to identify Guzovsky by name as the leader of a racist group.
Posted by Terry K. at 9:23 AM EST