MRC Finally Acknowledge '60 Minutes' Benghazi Debacle, Sorta
Topic: NewsBusters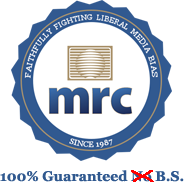 For the past two weeks, the Media Research Center has refused to devote any original coverage to the implosion of the "60 Minutes" Benghazi story it promoted. It's finally done so -- but only as a passing glance.
A Nov. 12 MRC item by Brad Wilmouth is devoted to attacking MSNBC's Chris Hayes for having "fretted about CBS News correspondent Lara Logan being biased in favor of military action against terrorists." As an aside, Wilmouth adds: "He also theorized that her retraction for using a dishonest source 'would be a huge story' if a conservative was being criticized, as he alluded to Dan Rather's story about former President George W. Bush and the National Guard."
Wilmouth doesn't mention that one key piece of evidence supporting Hayes' claim is his own item, which is the first original MRC work to acknowledge any problems with the "60 Minutes" story.
Posted by Terry K. at 1:08 PM EST