WND Buries Rand Paul's Plagiarism, Pretends Speech Wasn't Really About Abortion
Topic: WorldNetDaily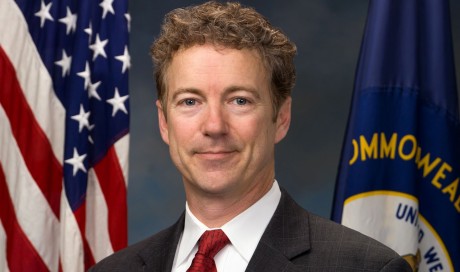 With tea party favorite Rand Paul being credibly accused of plagiarism, WorldNetDaily knew what it had to do: change the subject.
Thus, we have a Nov. 8 article by Alyssa Farah:
That the establishment media have a leftward lean is news to no one these days, but an episode of reporting on a speech by conservative Sen. Rand Paul, R-Ky., seems to push the envelope.

It seems the media trumpeted, and even headlined, the senator's references to abortion, even though he didn't make any.

The Associated Press reported about Paul's recent speech at the 10,000-student Liberty University in Lynchburg, Va., with the headline: "Rand Paul warns eugenics on horizon unless conservatives stand up against abortion rights."

Except that Paul didn't mention abortion in the nearly 18-minute address.
Farah then provided an summary of Paul's speech, refusing to concede that all his talk about eugenics was a pretty obvious reference to abortion. As one Paul supporter stated, "Historically speaking, there is a direct connection between eugenics, birth control, abortion, and race selection. ... Nonetheless, as much as pro-choice advocates want to repudiate part of their movement's history, these are well-documented facts and are often used to support pro-life policy positions.
Farah then sought to quickly gloss over Paul's plagiarism: "Paul has been under attack for alleged plagiarism in speeches and an article recently. He has conceded he inadvertently made mistakes in crediting sources and has set up a new system for correcting the oversight."
Paul's plagiarism is not merely "alleged" -- it's very well documented, by Buzzfeed and others. It's so well documented, in fact, that not only has Paul apologized for it, the Washington Times dropped his column over it.
Farah is so focused on distracting from the plagiarism allegations, in fact, that she completely ignores the fact that one of the prime examples of Paul's plagiarism appears in the very speech she's defending. Paul's Liberty University speech on eugenics includes a plot synopsis of the film "Gattaca" -- which was pretty much copied from the Wikipedia entry on the film.
Now that's putting a political agenda before facts!
Posted by Terry K. at 9:36 AM EST