Games David Kupelian Plays
Topic: WorldNetDaily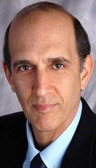 WorldNetDaily managing editor David Kupelian is such a rabid Obama-hater that he has no problem with spreading disinformation and lies about the president -- which is problematic since Kupelian is supposed to be operating a "news" operation that relies on facts.
Thus, we have the spectacle of Kupelian using his Nov. 10 WND column to pretend that he can read Obama's mind -- which, in practice, means that Kupelian is inventing the "actual purpose" of Obama administration policies.
For instance, Kupelian claims that the "actual purpose" of the stimulus was "A slush-fund to further Democratic Party tax-and-spend policies, pay public employee union pension and health-care costs, fund pet projects like Solyndra and Lightspeed and provide pork for Democratic districts and states." Kupelianalso claimed that "the stimulus failed to help the economy, reduce unemployment or create "shovel-ready jobs" -- which is demonstrably false. (Remember, facts don't matter to Kupelian if the goal is attacking Obama.)
Kupelian then plays armchair psychologist, claiming that "the current president has often been characterized by mental health professionals and others as highly 'narcissistic.'"Kupelian names none of those "mental health professionals" making that purported diagnosis, of course.
Kupelian also rants that Obama uses "devious battle tactics for wresting power, and they come directly from Chicago Marxist Saul Alinsky. Remember, Obama practiced and taught Alinsky's methods." He added: "If you distill Alinsky's last and most famous book, 'Rules for Radicals,' into one overriding operating principle, the one that makes the rest of his ideas work – it would be intimidation."
And what is one of Alinsky's "rules"? "Pick the target, freeze it, personalize it, and polarize it." Sounds exactly like what Kupelian is doing to Obama. Indeed, Kupelian puts that tactic to use at the end of his column:
But the plain truth is that we twice elected as president a man in the grip of dark forces. For whatever reasons, he displays a mysterious aversion to what is good, and an equally mysterious attraction to what is bad.

Thus, in his attempts to "transform" America to match his inner delusions as to what a just society should look like, he constantly plays games with us – "damn games" as Boehner complained – which in reality are a form of warfare aimed at bringing about revolutionary change.
Saul Alinsky would be proud of Kupelian. He's playing the game perfectly.
Posted by Terry K. at 10:16 AM EST