WND's Denigrating, Factually Inaccurate Attack on ENDA
Topic: WorldNetDaily
Bob Unruh's Nov. 2 WorldNetDaily article on the proposed Employment Non-Discrimination Act is headlined "It's ba-a-ack! Job protections based on sexual preference." But that's not it's promoted on WND's front page --that one reads "It's back! Job protections based on sexual perversion."

WND denigrates further with the photo accompaning Unruh's article -- an image of a man applying eyeliner: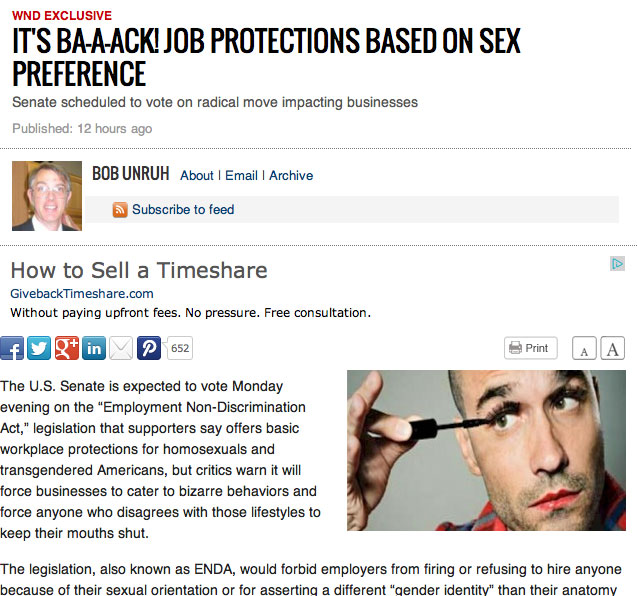 In addition, Unruh's article is highly biased, largely quoting critics of ENDA, and contains numerous inaccuracies and distortions. Unruh writes:
The federal hate crimes law ultimately was dubbed the "Pedophile Protection Act" by opponents who cited the efforts of Rep. Steve King, R-Iowa, to add an amendment stating the "term sexual orientation as used in this act or any amendments to this act does not include pedophilia."

Majority Democrats refused to accept the amendment.

During the discussion of the hate-crimes plan, Rep. Louis Gohmert, R-Texas, a former judge, explained how the rejection by the House of King's amendment would be read should a pedophile claim protection under the law.
Unruh failed to explain that, as we've previously explained, the "sexual orientation" is already defined by federal statute as applying only to "consensual homosexuality or heterosexuality," thereby excluding pedophiles. Thus, excluding pedophilia in ENDA would be unnecessary and redundant.
Unruh also writes:
WND CEO and Editor Joseph Farah recently pointed out the consequences of hate-crime laws, citing a proposal in San Antonio.

There, the city council considered adopting a "nondiscrimination" provision that would bar any "bias" of any kind.

Farah said that "on the face of it," the law would bar "anyone from office who has 'demonstrated a bias' against someone based on categories that include 'sexual orientation.'"
In fact, references to prior acts of discrimination were removed from the San Antonio ordinance before passage.
Unruh also writes that ENDA "generated controversy because of concerns it could be used to prosecute Christian pastors and others who preach the biblical condemnation of homosexuality." In fact, ENDA includes broad exemptions for religious organizations and differentiates between personal religious beliefs and anti-gay harrassment.
Unruh has written a biased polemic disguised as a "news" article. It's a long way down from his work at the Associated Press -- but crap like this is what WND is paying him to do.
Posted by Terry K. at 11:08 AM EDT