MRC's Matt Philbin Smears Michelle Obama
Topic: Media Research Center
Matt Philbin, the managing editor of the Media Research Center's Culture & Media Institute, is unusually sleazy for a right-wing activist -- you might remember him, for example, sliming Sandra Fluke as a "horizontal laborer" and a "Lincoln Tunnel Hitcher."
Well, he's at it again. In an Aug. 6 tweet, Philbin made a thinly veiled attack on both Michelle Obama's looks and her healthy-eating efforts, writing, "Michelle's gonna fight obesity thru hip-hop -- a music who's arguably most famous lyric is "I like big butts."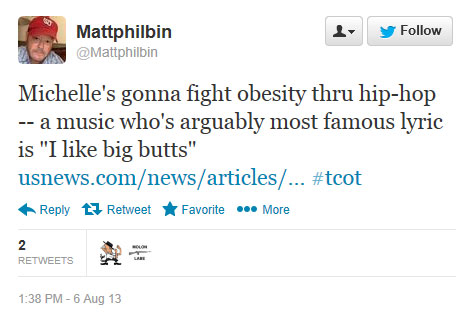 We'd complain about how Philbin continuees to hold a job at the MRC, but it appears being a jerk is a mandatory job function -- after all, his boss has called President Obama a "
skinny ghetto crackhead
."
Posted by Terry K. at 11:09 AM EDT