MRC Defies Pope by Bashing Gays
Topic: Media Research Center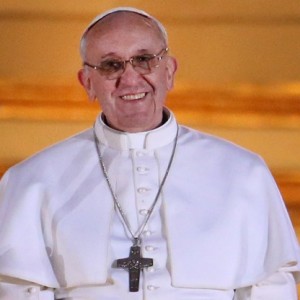 The Media Research Center's Lauren Enk used a July 29 MRC Culture & Media Institute item to complain that the media are "misrepresenting" what Pope Francis said about gays and offered to clarify. She praised Reuters for "correctly stating that, while Pope Francis explained that gays "should not be judged or marginalized," he also "reaffirmed Church teaching that homosexual acts are a sin."
So what does Enk do the rest of the week? Defy the pope by judging and marginalizing gays.
Enk sneered in an Aug. 1 CMI item:
As though there weren't enough gay on TV already, ABC just hired gay screenwriter and LGBT activist Dustin Lance Black to write a new gay rights miniseries based on his life. The Hollywood Reporter announced that the new show is planned to be a "semi-autobiographical" drama "based on and told from Black's background and experiences as a gay rights activist."

[...]

Series with gay themes appear to be a favorite with the ABC TV team. Also in development is a miniseries adaptation of a documentary about AIDS activism which follows a group of HIV-positive (mostly gay) men.

But aggressively pro-gay material is nothing new to ABC, which has blatantly pushed social acceptance of gay marriage in its shows like "The Fosters," and other series that lead the way in all things gay. With the anti-Prop 8 HBO documentary already set to reach the small screen soon, it looks like pro-gay propaganda will continue to take up a sizeable chunk of TV time.
The next day, Enk followed that up with even more gay-bashing:
The Huffington Post wants to make Catholic colleges more gay. So, HuffPo Live hosted a segment called "Rainbows for Catholic Colleges" on Thursday, and discussed how to undermine Catholic teaching and push the gay agenda on Catholic campuses. (Because Heaven forbid there be any institution left standing that hasn't capitulated to postmodern morality.)
Mind you, the MRC is a heavily Catholic organization -- chief Brent Bozell is on the board of advisers of the right-wing Catholic League, and several other key MRC staffers are conservative Catholics.
Apparently, nobody at the MRC is ready to embrace the Pope's call not to judge or marginalize gays.
Posted by Terry K. at 11:36 PM EDT