Where's The Collusion, MRC?
Topic: NewsBusters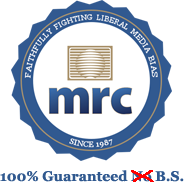 The Media Research Center doesn't seem to understand that words mean things.
Geoffrey Dickens starts a July 30 NewsBusters post -- which has been updated over the past week with alleged offenses by the broadcast networks in alleged non-coverage of controversies involving the IRS -- like this: "The Big Three (ABC, CBS, NBC) networks have colluded with the Obama administration to censor the latest IRS scandal news."
The definition of "collusion" is "secret agreement or cooperation especially for an illegal or deceitful purpose." Dickens offers no evidence of such an "agreement." Even if allegegd behavior suggests collusion, such a claim is dishonest without proof -- otherwise, it's just a correlation-equals-causation fallacy.
Nor does Dickens offer any evidence of "censorship." Failure to report a particular spin that not equal "censorship" -- indeed, given the talking points Dickens is providing as evidence, that's the prudent and honest path.
For instance, he writes:
House Committee Analysis: Only 46 Percent of Conservative Groups Approved by IRS

On July 30, as reported by even the liberal NPR, House Republicans offered proof that while 100 percent of groups with "progressive" in their name had their tax exempt status approved by the IRS, "only 46 percent of conservative groups won approval."

The analysis put out by the House Ways and Means Committee also found "conservative groups were asked more questions - on average, three times more" than liberal organizations.

Number of days with NO network story: 6
Dickens didn't mention that "the liberal NPR" also pointed out a serious problem with the House Republicans' metholodogy:
The majority staff dug into the applications of both conservative groups and progressive groups given extra scrutiny by the IRS, but for the purposes of the analysis looked only at groups with names that included terms the IRS used for flagging. The terms included "conservative," "Tea Party," "patriot 9/12" and "progressive."

The committee opted not to make any judgments about the political leanings of other groups given extra scrutiny by the IRS, sticking only with those listed on IRS "Be on the Lookout" watch lists.
That means the House Republican list is incomplete at best and highly biased at worst.
Dickens also writes:
Newly Released E-Mails Suggest IRS Colluded with FEC to Target Conservative Groups

On July 31 The National Review reported the stunning news that yet another government agency (the FEC) may have been utilized by the Obama administration to target conservative groups. NR's Eliana Johnson reported the following:

"Embattled Internal Revenue Service official Lois Lerner and an attorney in the Federal Election Commission's general counsel's office appear to have twice colluded to influence the record before the FEC's vote in the case of a conservative non-profit organization, according to e-mails unearthed by the House Ways and Means Committee."

Johnson continued: "The correspondence suggests the discrimination of conservative groups extended beyond the IRS and into the FEC, where an attorney from the agency's enforcement division in at least one case sought and received tax information about the status of a conservative group, the American Future Fund, before recommending that the commission prosecute it for violations of campaign-finance law."

Number of days with NO network story: 5
In fact, there is no scandal here. As Media Matters details, there's no evidence of the direct link Dickens and National Review claim -- just a suggestion of wrongdoing from selectively leaked emails from partisan sources that don't actually establish any malfeasance.
In short, Dickens is demanding that these things be reported -- even though they are dishonest, unproven or have been discredited -- because they conform to right-wing talking points.
Not because they are true -- because they advance Dickens' right-wing agenda (not to mention his boss, Brent Bozell).
Dickens would be screaming at media outlets if they had reported similar things on such flimsy evidence if they had taken place under a Republican administration. But such shoddy reporting is just peachy with Dickens because it advances his political agenda.
Posted by Terry K. at 9:28 PM EDT