CNS' Love Letters to Limbaugh
Topic: CNSNews.com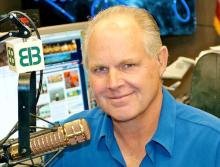 An Aug. 1 CNSNews.com "news" article by Gregory Gwyn-Williams Jr. is, in reality, a slobbering love letter to Rush Limbaugh on the occasion of the 25th anniversary of his nationally syndicated radio show.
Gwyn-Williams includes numerous of Limbaugh congratulating himself for his success. But no mention is made of the two most recent controversies involving him -- his tirade of misogyny against Sandra Fluke, and the fact that one of the largest groups of radio stations in the country, Cumulus Media, is apparently planning to drop Limbaugh's show from dozens of its stations, in part because of the fallout and decreased revenue it has experienced in the wake of Limbaugh's attack on Fluke.
CNS' parent, the Media Research Center, similarly gave Fox News' Greta Van Susteren a pass for conducting an hourlong interview with Limbaugh without touching on those controversies.
An Aug. 5 CNS article by Susan Jones uncritically quoted Limbaugh from the Fox News interview, making no mention of the fact that Van Susteren never asked Limbaugh about Fluke or Cumulus.
So much for the MRC caring about fair and balanced journalism.
Posted by Terry K. at 11:52 AM EDT