Joseph Farah's Wicked, Deceitful Ways
Topic: WorldNetDaily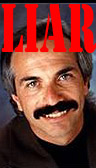 Joseph Farah devotes yet another WorldNetDaily column to blatant self-promotion:
It started with a column right here in this space back on April 11.

I had an idea. Frustrated by the state of our country and man's broken institutions, I called for a national day of prayer a little more than a month from now – on Sept. 11, 2013.

I actually called for a day of prayer and fasting, on that date, but I thought better about that idea and later amended it to a day of prayer and repentance.

Less than five months later, I'm happy to say, support for the plan is building for what I hope will be an annual event – an auspicious date in American history when believers in the One True God of Abraham, Isaac and Jacob, those called by His name, will humble themselves and pray and seek His face and turn from their wicked ways.

I am more convinced than ever before this is the only prescription for healing of our land. Nothing men do, short of this, will change the course of the country. Nothing men do, short of this, will save the nation from judgment and collapse.
Of course, few people have wicked ways to turn from than Farah himself, what with his continual lying and his use of WND to attempt to personally destroy Barack Obama by pushing falsehoods and distortions. But he has never admitted to this wicked behavior, let alone indicated that he will repent for it.
That would seem to be a stumbling block for a man who's promoting a "Day of Prayer and Repentence" -- and it should be a red flag for anyone thinking of taking part in it.
And, wouldn't you know it, the day after he writes the above, he tells another blatant lie. He writes in yet another Obama-bashing screed (bolding in original):
"So the point is, if Washington spent as much time and energy these past two years figuring out how to grow our economy and grow our middle class as it's spent manufacturing crises in pursuit of a cut-at-all-costs approach to deficits, we'd be much better off," he told Tennesseans. "We'd be much better off. And it's not like we don't have to cut our deficits. As a share of the economy, we've cut our deficits by nearly half since I took office. Half. And they're projected to go down even further, but there's a right way to do it and a wrong way to do it. And we should do it in a way that actually helps middle-class families instead of hurts them."

How is this possible? The economy is not growing under five years in the Obamanation. And the deficit has increase more than $1 trillion per year under his watch – with no end in sight.
In fact, the federal deficit for fiscal year 2013 is projected to fall well below $1 billion. And that projection means the 2013 deficit would equal 4.7 percent of gross domestic product versus the 10.1 percent of GDP in 2009.
Farah then whines, "Sadly, too many low-information voters believe anything this guy says." Sadly, the same is true about Farah.
Posted by Terry K. at 12:30 AM EDT