Newsmax's Walsh Says We Don't Understand Middle America
Topic: Newsmax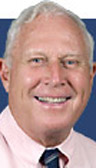 James Walsh dedicates his July 5 Newsmax column to criticizing us:
Terry Krepel, a Media Matters for America senior editor, has challenged a May 31, 2013, Newsmax commentary entitled "A Checkout-Line Town Hall" that reported on middle-America sentiments. He questioned the likelihood that such conservative comments would be coming from neighborhood shoppers.

His concern is understandable, since Media Matters for America is among the political-action groups funded in whole or in part by billionaire money-manipulator George Soros and other supporters of the Democrat Party's liberal agenda. Krepel, via his ConWebWatch, serves as a media watchdog for the political left on guard against Conservative thought in print.

Although he found it difficult to believe that neighborhood shoppers would "just parrot" the author's views," voter polls regularly show Americans thinking like the checkout-line Town Hallers, who are reacting to Internal Revenue Service excesses that remain in the news.

Town Hallers are concerned by the continuing saga of the Benghazi fiasco that left U.S. Ambassador Chris Stevens and three other Americans dead and by mounting Obamacare problems. For informed citizens, these remain topics of local discussion.

Most fair-minded Americans are beginning to realize that glib talk by President Barack Obama falls short of leadership. Although all polls should be questioned, recent ones show that 54 to 57 percent of Americans no longer favor the president.

[...]

Krepel ought to know that U.S. field soldiers don't parse words in the midst of a fire-fight. Whether the order was "stand down" or "stay down" or whatever, they help their buddies. In the Newsmax commentary being challenged by Krepel, a Marine quoted in the check-out line merely expressed the U.S. military code, even though this may not be understood by left-wingers.

They also may not understand when citizens ask, "Why does the Obama administration state that the Fort Hood shooting of Americans was "workplace violence" rather than an act of terrorism?
Walsh misses the entire point of our blog post. We did not question that anyone would criticize Obama; we questioned that they did so in the exceedingly convenient manner in which Walsh depicted it. Indeed, while Walsh vociferously defends the anti-Obama views of Middle America, at no point does he offer any evidence he was quoting actual people in his column or that the events he describes in his column happened in real life.
Walsh's headline declaration that we "misunderstand Middle America" shows misunderstanding of his own, again rooted in his attempt to portray our blog post as criticizing Middle America and not him.
Besides, Walsh couldn't be more wrong about who we are or what we do. I was born and raised in Nebraska, and spent much of my adult life in various locations in flyover country. I understand Middle America much better than Walsh thinks I do.
Nor is the point of ConWebWatch to be "on guard against Conservative thought in print." We monitor conservative disinformation and insanity -- something Walsh has been guilty of on occasion. We serve as a corrective measure for Walsh's anti-immigrant attitudes and other miscellaneous dishonesty. And ConWebWatch is funded by nobody other than myself.
Posted by Terry K. at 10:05 PM EDT