WND Rushes to Paula Deen's Defense
Topic: WorldNetDaily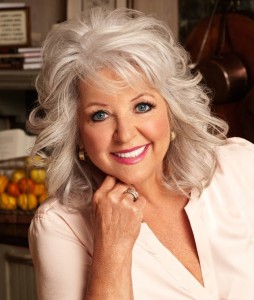 It probably shouldn't be a surprise given its penchant for race-baiting and eagerness to portray Trayvon Martin as a violent thug, but WorldNetDaily is rushing to the defense of celebrity chef Paula Deen over the backlash to her racist remarks.
Chelsea Schilling asks in a June 29 WND article: "How did Paula Deen, a spunky 66-year-old TV chef, go from being the much-loved 'queen of Southern cuisine' to exiled pariah in just days?" Schillling makes sure we know that Deen's use of the N-word was "many years ago," and that "Even Al Sharpton and Jesse Jackson came to Deen's defense."
In case Schilling's pro-Deen bias wasn't clear from her writing, she includes the phone numbers and email addresses of the networks and companies that have dropped Deen, stating that "Concerned individuals may contact the following partners who have dumped Deen."
WND's columnists are also jumping on the pro-Deen bandwagon. Ilana Mercer laments in her June 28 column:
Celebrity chef Paula Deen has transgressed against America's many Orwellian Ministries of Truth. While being deposed by a disgruntled employee, in May of 2013, Deen was forced to confess to using the "N-word" decades ago, upon which the Paula Deen Enterprises began to lose revenue.

Now the poor woman is on that familiar, modern-day Via Dolorosa: the apology tour.
Mercer goes on to suggest that Deen's views of black people are justified because one robbed her:
Blaming Old-South culture – as the prototypical knaves of conservatism are doing – is, moreover, unlikely to help exculpate Ms. Deen in the minds of the morons who judge her for her words, rather than for her deeds. The bad Old South macro-narrative is as ineffective in mitigation as is pointing out that Deen misspoke because of a near-death experience. "A black man [once] burst into the bank that I was working at and put a gun to my head," recounted Deen. "I didn't feel real favorable towards him."

It is for the same reason that the young mother, seen here in a video gone viral being kicked and punched repetitively and mercilessly by a burly black man, should watch her words in the future. The home of the mom was invaded by the man, who delighted in brutalizing her in front of her toddler.
But then, Mercer also kinda misses apartheid, so she may not be the most objective person to talk to about racial issues.
Erik Rush -- one of the black conservatives WND keeps around to provide it cover for Colin Flaherty's race-baiting -- laments even more in a June 30 column (while also working in a plug for his book):
Regarding the Deen debacle, some have criticized the inequity, capriciousness and mercilessness of the mob mentality, as well as the hypocrisy of the liberal media, which tolerates abject racism from Rev. Al Sharpton, Touré Neblett and other people of color, while queuing up to crucify someone who admitted to using a racial slur in private years ago.

The conditions to which I would call attention are those I have previously cited, and which were addressed at length in my book, "Negrophilia: From Slave Block to Pedestal – America's Racial Obsession." In general, they speak to liberals' imperative for portraying America as still being an institutionally racist nation.

[...]

Obviously I don't know what is in Paula Deen's heart, but that is hardly relevant to her predicament or to the argument at hand. What's really sad and unjust about this affair is that those pursuing the issue don't care what is in her heart.
If what he writes is any indication, we know what's in Mr. Rush's heart: a raging case of Obama derangement.
Posted by Terry K. at 1:56 AM EDT