Newsmax Promotes Giuliani Legal Defense Fund (Which It Also Runs)
Topic: Newsmax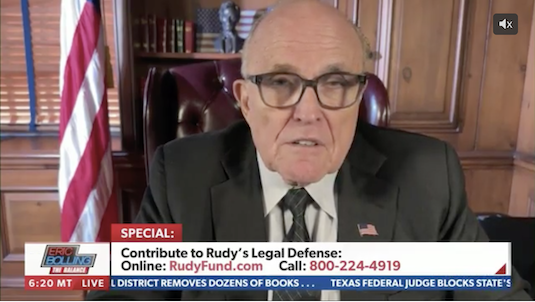 Back in 2021, Newsmax touted a legal defense fund created by Rudy Giuliani, framed as the "Rudy Giuliani Freedom Funs." Apparently unironically named writer Charlie McCarthy state that the fund's creation "came after New York and Washington, D.C., suspended his law licenses in what the former mayor says is an effort to silence him in his efforts to defend Trump and talk about 2020 presidential election fraud." It's unclear how well the fund was in raising money, though it is apparently still live at the right-wing fundraising site WinRed, which states that it is run by the "Rudy Giuliani Freedom Fund Legal Defense Trust."
Now, Giuliani has a new legal defense fund to promote, and Newsmax gave him space to do so (and play victim) in a TV appearance:
Rudy Giuliani has formed a legal defense fund to finance his legal battles and he tells Newsmax that it's important to help fight back in the left's war on conservatives.

"I think as President Trump pointed out some time ago, you're going to be next, and I was next, and now there are about 80 other people after me," Giuliani told Newsmax's "Eric Bolling The Balanc" Thursday night.

Giuliani is one of the 19 co-defendants, including former President Donald Trump, facing charges in Georgia as part of the sweeping racketeering indictment unveiled last month by Fulton County District Attorney Fani Willis.

The former New York City mayor and President Trump's personal attorney has denied all charges and says he has been the victim of a political prosecution for exercising his constitutional rights.

"If you are of a conservative mindset, the chances of your being prosecuted in [President Joe] Biden's America are enormously high," Giuliani told Bolling.
Giuliani and his defense fund got promoted in other Newsmax articles in the following few days:
But Newsmax didn't tell its readers and viewers that it's running the legal defense fund. Media Matters reported that the "RudyFund.com" domain redirects to a Newsmax-hosted page indicating that it will be processing the donations, and a mailing address for the fund was listed for the fund in West Palm Beach, Fla., where Newsmax is headquartered. Newsmax has also promoted the fund numerous other times on the air. It's unclear, however, what the difference is, if any, between this fund and the defense fund Giuliani started in 2021 -- or if there is a difference, why he chose to create a new fund and apparently abandon the old one.
When Donald Trump hosted a fundraiser for the legal defense fund, Newsmax hyped that too:
Newsmax gave space to Giuliani to plug the fund again (and play victim again) in a Sept. 9 TV appearance:
While Democrats and prosecutors have put former President Donald Trump and his backers on defense, former New York City Mayor Rudy Giuliani told Newsmax on Saturday his legal defense fund will be put to work to go on offense against weaponized justice.

"There are one or two cases that we could bring, offensive cases, that maybe could cut these off and we don't have the resources for that," Giuliani told "Saturday Report," pitching his RudyFund.com.

"I've had to do things here in these cases, and sometimes I wouldn't do, because we didn't have the money to do it."

Prosecutors have the unlimited resources of taxpayer dollars and even Wall Street millions seeking to defeat Trump and keep him from returning to the White House, Giuliani warned to host Rita Cosby, saying the offense and defense can stop the election interference "if we had the proper amount of money like they have."

"You know where the money's coming from," Giuliani said. "It's coming from the people who want to destroy our country. This is not a battle just about — as Donald Trump has said — Donald Trump or Rudy Giuliani or Peter Navarro.

"This is probably the worst political witch hunt — I don't think we've ever had anything like this in history."
None of these articles disclosed that Newsmax is running the fund. Media Matters has since reported that Newsmax promoted the fund more than 50 times on its TV channel, only occasionally disclosing that it's running the fund.
Posted by Terry K. at 1:36 PM EDT