Dick Morris Continues Sucking Up To Trump To Promote His Book
Topic: Newsmax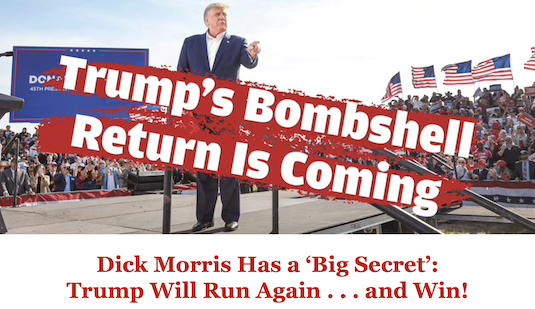 Dick Morris has been in full Trump suck-up mode all over Newsmax to promote his new (Newsmax-published) pro-Trump books. Let's see how that's been going for him since the last time we checked, shall we? In a July 25 Newsmax TV appearance, Morris touted Trump's plan to destroy the federal civil service system:
If former President Donald Trump is reelected in 2024, there are reports he is going to work to drain the swamp of "deep state"career government officials by permitting the president to staff his government as one sees fit.

While Trump campaign adviser Dick Morris, who has released his latest book "The Return: Trump's Big 2024 Comeback," did not fully acknowledge the reported "Schedule F" executive order to Newsmax, he hailed it as noble reform for the Executive branch.

That's a bit of historical tension in American politics," Morris told Monday's "Rob Schmitt Tonight." "All officials used to be appointed. Andrew Jackson set that precedent. He said, 'They elected me president, so I should fill the administration with people who will do my policies.'

"And then when that system became too corrupt, they replaced it in 1882 with the civil service system. But the problem is now the civil service marches to its own drummer."

[...]

"And I think that this rule that he's seeking to propose is a very good one, because it makes the bureaucracy politically responsible to the president."
In nreality, turning the whole of federal government into a patronage system beholden to the president and not making the government function properly is a bad idea that will quickly descend into corruption and effectively destroy government function.
It was also noted that "Morris also noted in his appearance with Schmitt, as he wrote in his book, he has found strength in God and purpose after battling cancer." No mention of the prostitute-patronizing that cost Morris his adviser gig with President Clinton in 1996 and set him on a revenge path that led him to being the aforementioned Trump suck-up.
Morris repeated his low-stakes prediction (and his book's premise) that Trump will run for president again in 2024 in a July 27 TV appearance, dutifully mixing in another Newsmax agenda item:
Meanwhile, Morris said he was "shocked" that Trump's speech didn't get any play on Fox News, even though the former president gave this "wonderful speech laying out his programming beautifully, not much about 2020 all about the future, right?

"It took two hours and Fox News did not cover it. They covered Mike Pence's speech to the same group. But Fox did not cover it … this blackout by Fox News and by the arms of the Democratic Party of Donald Trump is reaching horrific proportions."
Morris diverged from his pro-Trump agenda in a July 30 appearance, declaring that "Ukraine is winning the war against Russia and will be 'potentially winning decisively'"-- a worrisome statement for those on the Ukraine side, given Morris' history of notoriously bad political prognostication. He returned to the Trump beat for an Aug. 1 TV hit that again took a shot at the competition:
Former presidential adviser Dick Morris told Newsmax on Monday that Fox News is doing everything it can to create a GOP primary fight opposing Donald Trump — from ignoring the former president to promoting a candidacy for Florida Gov. Ron DeSantis.

Morris, who outlines the strategy in his newly released book, "The Return: Trump's Big 2024 Comeback," said it's part of a larger strategy by the Democrats to sully Trump and change Fox News from conservative-leaning to liberal-oriented.

"They've censored, they switched Fox News from Republican to Democrat, and they are now basically … Newsmax is the only organ that's covering Trump," Morris said on "John Bachman Now."

"And in the meantime, Fox is doing everything it can to promote DeSantis. He's on the air all the time. They say nice things about him. Trump hasn't been on for three-and-a-half months, and this is because the … Democrats are scared to death of Trump, and they know they have to try to beat him in the primary."
Morris cheered Trump's takeover of the Republican Party in an Aug. 6 TV appearance:
Former President Donald Trump has "orchestrated a makeover" of the Republican Party before his return in 2024, bringing the "fire" for midterm election turnout that is sorely needed, according to presidential adviser Dick Morris on Newsmax.

"In 2016, Trump orchestrated a takeover of the Republican Party," Morris told "Saturday Report." "Now, he's orchestrating a makeover of the Republican Party. It's unprecedented.

"It's never happened before. The former incumbent president really is reshaping the Republican Party and making it into a MAGA, America First institution."

[...]

Trump can stake his claim to returning America to a world powerhouse with a widely successful economy, something no Democrat or Republican can stake claim to, Morris concluded.

"He's a builder," Morris said. "And imagine somebody who built the most beautiful building in the world, and then the successor came in and tore it all down

"He's going to want, as a craftsman, to rebuild that, to bring the country back to where it was at the end of his presidency. He's immensely proud of that, and he's determined to restore that."
Ther article concluded with a corporate plea to get on a text list for Newsmax readers: "Get latest news on Trump's 2024 plans, his "Big Announcement" and more from Newsmax's Trump list!" As if we needed another reminder that Morris and Newsmax remain beholden to Trump.
Posted by Terry K. at 1:52 PM EDT