MRC Still Hates Griner For Trying To Make More Money Playing Basketball
Topic: Media Research Center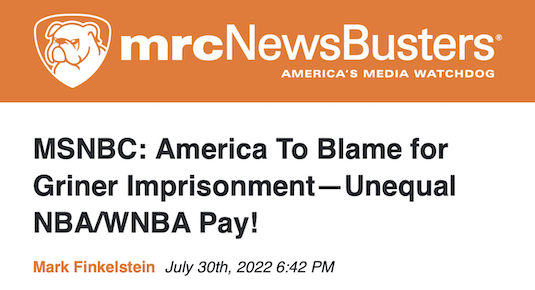 One of the arguments the Media Research Center has used against Brittney Griner to justify her rotting away in a Russian prison is that she shouldn't have been working so hard to make money as an athlete by supplementing her paltry WNBA salary by playing overseas. They're still attacking her for that, and even justifying how low WNBA salaries are.
The MRC's chief Griner-hater, Jay Maxson, used a July 26 post to lash out at sportswriter Stehen A. Crockett Jr. for making the logical point that Griner would not have to play overseas if she made more here:
After bitterly complaining about hatred for black athletes, Crockett returns to the script: the so-called economic disparity between men's and women's sports. Females are forced to eat mystery meat sandwiches, and Stephen Curry makes $471,000 more per game than the WNBA's annual average salary. Tennis star Roger Federer's worth is $550 million, and Serena's is a pathetic $260 million.

Blinded by race, Crockett never comes close to the painful truth of the matter.

Women's sports do not generate the wealth that men's sports do, and that's because far fewer Americans attend women's athletics or watch them on television. It took decades before a woman could dunk a basketball. Michael Jordan, Hank Aaron, Carl Lewis and Tom Brady were all crushing it in their respective sports, and there's never been a female athlete or team who could approach their level of play.

[...]

The Left can moan all it wants about hatred for black women, but the facts and figures reveal that Americans realistically view women's sports as minor league when compared to men's athletics. With no hatred of black women involved.
Maxson, meanwhile, has made his (or her) hatred of Griner as a black lesbian athlete all too clear.
Mark Finkelstein repeated the same talking point in a July 30 post, declaring that "the disparity between Griner's salary and that of NBA stars is a function of the free market at work":
Per this article, in a recent year, the NBA generated $7.4 billion in revenue. The WNBA generated. . .. $60 million. That's a ratio of 123:1.

Per the same article, the average WNBA salary is $71,635. Applying that 123:1 ratio, the average NBA salary would be $8,881,105. But, in fact, NBA players are paid $6.4 million on average. So by that metric, it could be said that it is the NBA players who are underpaid!

WNBA rosters have 12 players. If the players on just one team were paid the $6.4 million NBA average, it would more than wipe out the earnings of the entire league!

Along similar lines, NBA games in 2021-2022 averaged over 3 million viewers. WNBA games in a recent year averaged 205,000 viewers. And the NBA plays more than five times more games than the WNBA. So the total viewership is even more lopsided.
Neither Maxson nor Finkelstein explain why, exactly, Griner should be satisfied making paltry sums in the WNBA and playing basketball elsewhere was somehow too ambitious for her.
Posted by Terry K. at 9:32 PM EDT