CNS Blamed Rising Gas Prices On Biden -- But Largely Censors Falling Gas Prices
Topic: CNSNews.com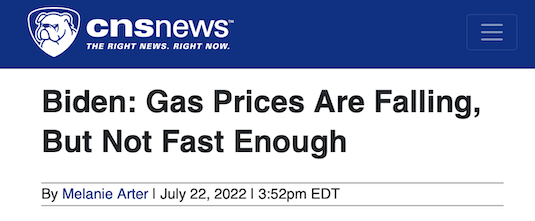 We've documented how CNSNews.com has spent the past several months blaming President Biden for high gas prices, though it could never identify any specific Biden policy that resulted in a specific rise in prices (not even the cancellation of the Keystone XL pipeline).n But the fact that gas prices have on a continual decline since a mid-June high -- and that they are expected to continue to do so, dropping below $3 in some areas -- isn't news at all at CNS. After all, it's CNS editorial policy to avoid giving attention to the achievements of a Democratic president.
The only CNS story we could find that had lower gas prices as a main focus is a July 22 article by Melanie Arter. It's a stenography piece in which she simply transcribes what Biden said:
One day after being diagnosed with COVID, President Biden on Friday hosted a virtual economic briefing on gas prices from the White House residence, taking credit for gas prices dropping below $4 a gallon in "more than 30,000 gas stations in more than 35 states."

"Let me start by apologizing for my voice. I feel much better than I sound. We're meeting today on gas prices, and we have really good news. Gas prices are coming down. In fact, gas prices have fallen everyday this summer for 38 days in a row. You can find gas for $3.99 or less in more than 30,000 gas stations in more than 35 states," he said, appearing on-screen.

[...]

The president said that while the good news is that gas prices are falling, "it's not happening fast enough."

"We made progress, but prices are still too high, and so here's what I'm going to do to talk about today with all of you. We need to work on this," Biden said.

To this end, the president announced that the administration would "look at ways to increase oil production from the existing wells and permits that exist today."
Surprisingly, more biased CNS reporters like Susan Jones were not moved to hunt down Republican members of Congress attacking Biden for taking credit for lower gas prices -- of course, theuy all spent months blaming him for prices rising, and it would be a contradiction if they flip-flopped. Instead, it's helping to keep Republicans on brand (and on the attack), such as this Aug. 9 article by intern Janey Olohan:
During an interview on FNC's Sunday Morning Futures, Senator Ted Cruz (R-Texas) said the Inflation Reduction Act of 2022 will raise gas taxes for Americans, and that Democrats supporting the legislation are voting to "make our consumers pay more at the pump."

"Every single Democrat, all of them voted to increase gas taxes," Cruz told host Marie Bartiromo. "So the next time you see a Mark Kelly in Arizona, or Raphael Warnock in Georgia, or a Maggie Hassan in New Hampshire, or a Michael Bennet in Colorado, or Catherine Cortez Masto in Nevada say, 'Hey! We want gas prices to be lower!'"

"You know they are lying because they stood up and voted raise the gas taxes, stick it to the producers, make our consumers pay more at the pump," said Cruz, and "that's the end result they want and their voting record proves it."
Because CNS doesn't fact-check its fellow conservatives and don't train their interns to do so, Olohan didn't report that Cruz was wrong about the Inflation Reduction Act "increas[ing] gas taxes." What the act actually does is increase a superfund excise tax on crude oil and production rates on oil wells on federal land -- none of which can be plausibly called a "gas tax," and which the federal government is not forcing oil companies to pass on to consumers (which they don't actually need to, given the record profits they have been making while jacking up those gas prices).
Posted by Terry K. at 2:58 PM EDT
Updated: Wednesday, September 7, 2022 11:42 PM EDT