Dick Morris' New Dubious Prognostication: Trump vs. Hillary In 2024
Topic: Newsmax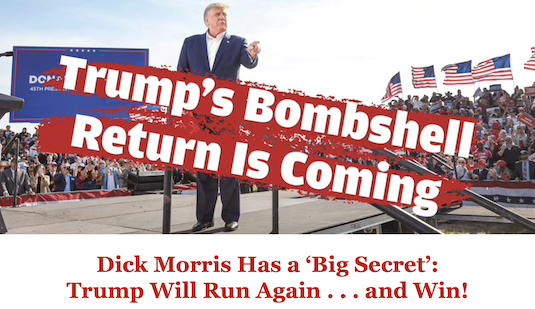 Newsmax pundit Dick Morris has a legacy of failed prognosications, a good portion of which involve Hillary Clinton -- for instance, he predicted she would runfor president in 2020, which didn't exactly work out. But Morris has a new book to promote, this one predicting that Donald Trump will run for president in 2024, which is a less risky prediction, given how aggressively Trump has been hinting at it. But the book is published by Humanix, Newsmax's book division, so it's all over Newsmax, including using it as an enticement to lure readers into subscribing to its magazine. And despite the fact that Morris' prediction is not exactly a stretch, he's been pushing it like it was, giving up his much more noble endeavor of calling out Tucker Carlson's pro-Russia leanings to revert to political hackery. Morris outlined Trump's alleged election strategy in a July 16 article:
Political consultant Dick Morris said President Donald Trump will focus heavily on getting the Hispanic vote in 2024 and work to secure early voting like Democrats did in 2020.

"One of the groups that we're particularly aiming at are Hispanics," Morris, the author of the new book, "The Return: Trump's Big 2024 Comeback," said Saturday during an appearance on Newsmax's "American Agenda."

[...]

Getting voters to back Trump, he added, will be easy because of his experience as president.

"Donald Trump is a hybrid, like a Toyota car," Morris told Newsmax.

"He is half incumbent and half challenger. And in that role as a challenger, he'll go against Biden and the Democrats and explain all their failures.

"But then when they come back at him and say, 'How do we know you'll do any better?' he can come back as the half incumbent and say, 'I did. I did better on all these things. The border was secure, crime was low, there was no inflation, and the Russians didn't invade Europe. They were intimidated. And that's how it'll be again.' Trump is the only guy who can say that," he added.
A July 17 article by Eric Mack did much the same thing:
"The phrase is not 'likely,' the phrase is dead pipe certain: He's certain to run, and he is, I believe, certain to get the Republican nomination," Morris told Sunday's "Wake Up America." "I think he'll actually get it by acclamation. I don't think there'll be a primary fight."

All the talk of Florida GOP Gov. Ron DeSantis being a viable challenger to Trump in the 2024 GOP primary, is just that, Morris added to host Katrina Szish.

"Well, there's a lot of Republicans who have sort of the 6-year itch," Morris added. "You've heard of the 7-year itch. It's been six years of Trump, but they're flirting with DeSantis and other candidates, but only Trump can win this election."
Morris also does more than a little sucking up to Trump on a personal level:
Morris noted his Trump relationship started when his father was "the best" real estate attorney Trump has ever had, and he spoke with the president every day during the 2020 presidential election.

"And I explain it all in this book, including anecdotes of discussions that we had that there were I think very significant," Morris concluded.
Unsurprisingly, Morris dragged Hillary into it again in his July 19 column:
It will be one of the great political re-matches of all time.

Hillary Clinton will run again for president in 2024 to stop Donald Trump.

[...]

Increasingly, Democrats and big media like The New York Times know that Biden can't run again in 2024.

I share some of the backstories in my book about what his own supporters say about Biden behind his back. It's pretty shocking.

These insiders know better than most that Biden's quickly declining mental abilities, coupled with an economy spiraling out of control, means disaster for the Democrats in '24.
Morris repeated the same series of events hereferenced in his failed 2020 prediction, which depended on every single potentially viable Democratic candidate flaming out, thus opening the door for Hillary:
It is clear to me that Hillary's recent spate of media interviews, as well as opinion pieces penned by long-time Clinton cronies touting her as Joe Biden's successor — are a prelude to her announcement she's running.

When that happens, we will enter a new phase.

Trump is preparing for Hillary's run – and knows he needs to create a new majority that will enable him to beat her and win in 2024.

As I explain in "The Return," it's Trump's to lose and he won't.
He repeated much of this in a Newsmax TV appearance the same day.
Posted by Terry K. at 2:38 PM EDT