MRC Still Fretting Over Injured Fox News Reporter, Ignoring Dead Non-Right-Wing Reporter
Topic: Media Research Center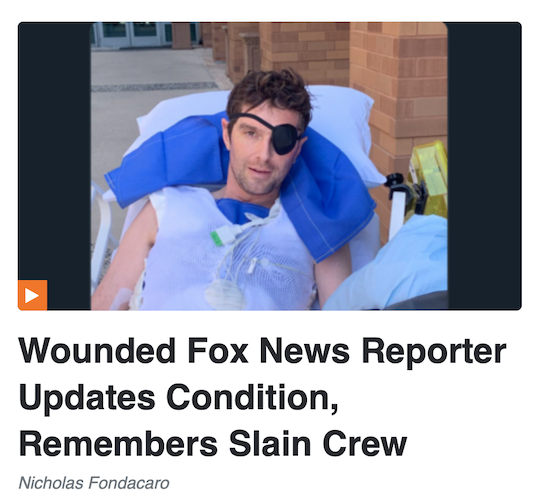 We've documented how the Media Research Center expended much expressive public weeping over the deaths of two Fox News correspondents and the injury of another while covering the Russian invasion of Ukraine -- while almost completely ignoring the death of another reporter covering the same conflict, Brent Renaud, who was effectively expendable because he didn't work for Fox News. That even made the MRC's regular Jen Psaki-bashing sessions, when Kevin Tober cheered how Fox correspondent Jacqui Heinrich "who, in light of the news her Fox colleague Benjamin Hall had been injured, wanted to know how the Biden administration would respond now that it appears that Russia is now shooting at American journalists," then whinined that "Psaki didn't give an adequate response to Heinrich's question other than reminding her what actions Biden has already taken towards Russia." Needless to say, Heinrich didn't ask about Renaud.
In an April 7 post, lead mourner Nicholas Fondacaro returned for an update on the wounded Fox News reporter:
In a series of now-deleted tweets Thursday night, Fox News State Department correspondent and war reporter Benjamin Hall spoke out for the first time publically about his condition after his crew was attacked by Russian artillery outside of Kyiv, Ukraine (leaving 2 others dead). And before getting to how banged up he was (including the loss of body parts), Hall made a point to first pay tribute to his colleagues who lost their lives in the attack.

"Its [sic] been over three weeks since the attack in Ukraine and I wanted to start sharing it all. But first I need to pay tribute to my colleagues Pierre and Sasha who didn't [sic] make it that day. Pierre and I traveled the world together, working was his joy and his joy was infectious. RIP," he wrote on Twitter.

[...]

And while many in the media had enough class to know when not to take cheap shots at a rival during a time of crisis, there were some who made sure to use reports of the initial incident to score grotesque political points.
As if Fondacaro isn't making a grotesque political point by censoring mention of Renaud simply because he didn't work for Fox News. To him, reporters' lives matter only if they are right-wingers like him; otherwise, they deserve to die in obscurity.
Posted by Terry K. at 10:33 AM EDT