CNS Still Fretting About Afghan Refugees In U.S. -- But Silent About Ukraine Refugees
Topic: CNSNews.com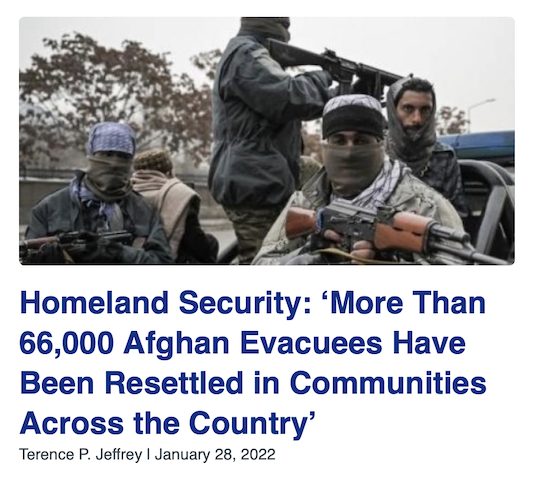 After the U.S. withdrawal from Afghanistan, CNSNews.com made sure to fearmonger about refugees coming to the U.S. from that country, with lots of fretting about whether they had been properly vetted. Months afterward, the fearmongering continued: A Jan. 27 article by Craig Bannister complained:
A number of refugees from Afghanistan, part of group of as many as three hundred being temporarily housed in a bankrupt hotel by the federal government, recently breached security and wandered onto the golf course of a gated resort community in Scottsdale, Arizona.

The refugees from the defunct hotel are unsupervised and free to come and go as they please, so they simply roamed onto the golf course of the Gainey Ranch and Golf Club, the AZ Free News reports:

[...]

What's more, Scottsdale citizens report that the Afghan refugees have been panhandling in the area. A spokesman for the mayor's office and council told the AZ Free Press that the refugee-hotel project "is a federal government activity over which the city of Scottsdale has no oversight."
'Bannister didn't explain why these refugees must be treated like children with constant supervision. The next day, editor Terry Jeffrey groused:
The Department of Homeland Security put out two press statements on Wednesday announcing that the last Afghan refugees have been released into the United States from Camp Atterbury in Indiana and Holloman Air Force Base in New Mexico.

"To date, more than 66,000 Afghan evacuees have been resettled in communities across the country," said DHS.
Jeffrey rehashed an earlier attack from an interview he did with Republican Rep. Chris Smith, who "raised concerns about the vetting of the Afghans brought into the United States."
The complaining continues to this day: A May 18 article by Susan Jones made the headline claim from DHS that "approximately 74,000 Afghan nationals have come to the United States as part of OAW, the largest number of foreign evacuees arriving at one time in nearly 50 years."
By contrast, the idea of refugees from Ukraine fleeing from Russian aggression and possibly settling in the U.S. has drawn virtually no concern from CNS. While several CNS articles have referenced the refugee crisis, only two have made them the focus: A pre-war Feb. 22 article by James Carstensen predicting a crisis if Russia invades Ukraine, and a March 9 article by Carstensen noting the growing crisis but not referencing the U.S. There has been nothing since -- for more than two months.
For all of its fretting about Afghan refugees, CNS has been almost completely silent about Ukrainian refugees coming to the U.S., even though President Biden has launched a program to bring 100,000 refugees into the country and CNS has freaked out over a smaller number from Afghanistan. Why? Is it because the Ukrainians are presumed to be Christian and the Afghans are not, something that has been a longtime CNS obsession? Whatever the reason, the double standard is glaring.
Posted by Terry K. at 12:57 AM EDT