Newsmax's Kerik Battles With Jan. 6 Committee, Touts Another Congressional Candidate
Topic: Newsmax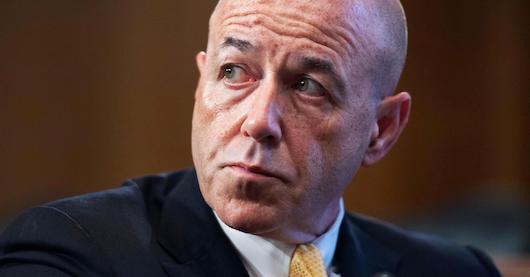 Disgraced ex-New York City police chief Bernard Kerikjhas been keeping himself quite busy over the past several months.
Kerik has doing a little dance with the House committee looking into the Capitol riot, which would like to hear from him because of his presence in the "command center" at a Washington, D.C., hotel -- which Kerik initially paid for, and later got reimbursement from the Trump campaign -- for Donald Trump's efforts to try and overthrow the presidential election he lost. Newsmax reported in November that Trump was waiving attorney-clilent privilege to allow Kerik to testify to the committee (never mind that Kerik is not an attorney, let alone under Trump's employ at the time). A month later, Newsmax noted that Kerik said he would publicly release some documents the committee was seeking, while also whining that he didn't "trust" the committee. Kerik did eventually do a document drop on New Year's Eve, which is more interesting for listing the stuff Kerik won't release.
After much wavering, Kerik eventually agreed to a "voluntary interview" with the committee, during which he would not be placed under oath. That took place on Jan. 13.
In the meantime, Kerikhas been linking himself to some extreme local candidates in upcoming elections. We've noted how Kerik signed on to help Missouri Senate candidate Eric Greitens -- best known for being forced to resign as Missouri governor over accusations he tried to blackmail a woman he was having an abusive affair with -- as well as fringe Georgia governor candidate Vernon Jones.
Now Kerik is trying to lend his dubious magic to another congressional candidate. Scott Kaspar, who's running for a House seat in suburban Chicago -- is such a Kerik-lover that Kerik was by his side when he announced his candidacy in an effort to bolster a tough-on-crime image (never mind that Kerik spent years in prison for breaking the law). To that end, Kerik and Kaspar co-wrote a Jan. 31 Newsmax column pushing the usual tough-on-crime talking points:
Scott Kaspar lives in a sleepy corner of Orland Park, in suburban Cook County, Illinois. There, leaving your garage door open all day while your kids play in the neighborhood is common.

Doors usually are unlocked during the day, and traffic in the area is minimal.

In many ways, up until recently, his neighborhood was the closest thing to a Norman Rockwell painting.

However, we've seen crime explode in suburban Chicagoland in the past couple of years.

The occasional carjacking in 2020 has been replaced by weekly carjackings in Orland Park, if not more frequently.

Everyone in Scott's community knows of a neighbor who has been the victim of a carjacking.

[...]

Solving the problem of crime plaguing Chicago and its suburbs is the real challenge.

Leaders at all levels in government do not have to reinvent the wheel — they can lean on experts like former New York Mayor Rudy Giuliani, and like the co-author of this article, former New York City Police Commissioner Bernard Kerik.

They are reflective of leaders who have a proven record of driving down crime in their communities.

When Mayor Rudy Giuliani took office, New York City was the crime capital of the country with over 2,200 homicides per year. That's more than Chicago, Detroit and Los Angeles combined. And by the time Mayor Giuliani and New York City Police Commissioner Bernard Kerik left office in 2001, there were approximately 400 homicides per year.

Parents in some of New York City's most dangerous neighborhoods used to put their children to bed at night in the bathtub so they wouldn't get hit by stray bullets in the middle of the night — while they slept.

Under the leadership of Mayor Rudy Giuliani, New York City, saw a significant reduction in crime. By giving police more power and utilizing "stop-and-frisk" policies, homicides dropped by 70%, and in the black communities, by 80%.
No mention, of course, that Kerik is a convicted felon (whom Donald Trump pardoned) or that Giuliani has utterly beclowned himself in his efforts to attempt to overturn an election Trump lost.
Posted by Terry K. at 1:40 AM EST
Updated: Tuesday, March 1, 2022 12:52 PM EST