MRC's Double Standard On Nazi References
Topic: Media Research Center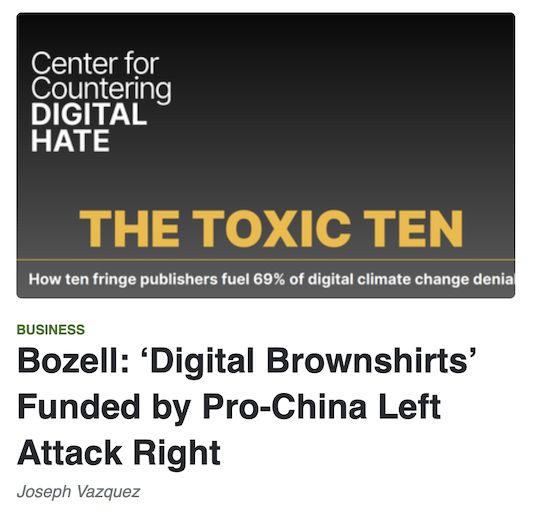 The Media Research Center has been whining a lot of late about Donald Trump and Republicans in general being likened to Adolf Hitler and Nazis. For instance:
Needless to say, the MRC enthusiastically embraces Nazi comparison when it serves its partisan political agenda to do so.
In November, as we noted, MRC chief Brent Bozell melted down over his organization being identified as spreading politically motivated misinformation on climate change by screeching, "Digital brownshirts are attacking conservative organizations for daring to have an honest debate on climate policy. These anti-free speech bigots want to shut down anyone who dares to disagree with them."The MRC's Alexander Hall later gushed that his boss "torched" the study's creators with the slur,

The MRC was at it again in a Feb. 25 item by Joseph Vazquez headlined "Special Report: Digital Brownshirts Attacking Free Speech on Climate Change Boosted by Liberal Media," in whcih he complained that "liberal media outlets" are boosting the report identifying the MRC as a climate misinformer, weirdly making a point of calling the group "foreign."
Never mind that a year or so earlier, the MRC purported to deplore the use of the word: "Chuck Todd took a vicious swipe at Trump's backers, which he noted were gathering just across the street for a rally, by comparing them to the Nazi Brownshirts who enforced Adolf Hitler's rule."
The MRC had the chance to redeem itself and look a little less hypocritical. In December, Fox News talking head Lara Logan -- who has long been loved by the MRC, to the point that it hid her misdeeds in reporting a false claim about the Benghazi attack and continued to promote her even as she spread Antifa hoaxes -- outrageously likened Anthony Fauci to notorious Nazi doctor Joseph Mengele. Instead of calling her out by name and declare taht all such Nazi comparions are beyond the pale, the MRC wimped out.
The above-noted Dec. 1 post by Switzer was one example, with her refusing to identify Logan as the person who likened Fauci to Mengele. She went on to issue a general criticism of the trend, then moving immediately to whataboutism: "Of course, none of this is to say that violent threats and attacks on Dr. Fauci are justified. However, attempts by CNN to claim moral high ground regarding authoritarian comparisons are simply laughable."
In a Dec. 6 post, Graham repeated earlier whataboutism in noting that CNN guest David Zurawik was like a "drug addict" inneeding media attention of the kind that drew her to make the Fauci-Mengele comparison: "Later in the show, Stelter asked Zurawik about Lara Logan being on a "time out" of sorts from Fox News after comparing Dr. Fauci to Dr. Mengele. That outburst was bad, but since when does CNN get to promenade about Nazi comparisons when it has thrown that mud routinely?? On his show, Stelter let a guest say Donald Trump would kill more people than Hitler, Stalin, and Mao combined!"
Of course, the MRC has been hypocritical on this particular comparison as well. In 2020, it claimed that Whoopi Goldberg engaged in "next-level nuttiness" for "=saying Trump was like Josef Mengele, the Nazi doctor at Auschwitz" with his infamous suggestion that people drink bleach to kill COVID.And it has used th slur when it helps its agenda: An April 2020 post by Gabriel Hays lashed out at women who used telemedicine during the pandemic to get the medication needed for a medically induced abortion: "So, it's not perfect ease of access, but you know lefties consider this to be pretty innovative. Yeah, innovative in the way Nazi doctor Josef Mengele was 'innovative.'"
That's the closest thing to outrage the MRC could muster. Being a friend of the MRC -- as Logan is -- helps shield one from responsibility for making wild comparisons. How sadly hypocritical. We can only quote from a 2015 column by Graham and Bozell attacking Planned Parenthood: "To refuse to condemn is to condone. They are condoning something Josef Mengele would also endorse were he practicing his brand of medicine today."
Posted by Terry K. at 3:43 PM EST