MRC Shows Its Partisan Colors In Its War on NewsGuard
Topic: Media Research Center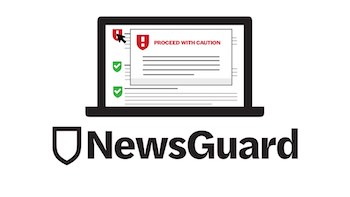 The Media Research Center has been waging war on website credibility firm NewsGuard for the sin of finding that right-wing websites are less credible than mainstream news or even liberal websites -- though the MRC has never been able to prove NewsGuard wrong despite a lot of ranting about "left-leaning" (a claim it also hasn't supported with credible evidence). The ranting continued in a Jan. 26 post by Catherine Salgado against a new NewsGuard initiative:
Biased online ratings firm NewsGuard is taking its information war to schoolchildren through a deal made with the American Federation of Teachers.

School children depend on the internet for homework help. NewsGuard is now stepping in to "filter" online sources for so-called "misinformation." The American Federation of Teachers (AFT) union is buying NewsGuard licenses for its 1.7 million member teachers, according to an AFT press release. The partnership will make NewsGuard available to tens of millions of students and their families for free.

The NewsGuard partnership will foist the company's "real-time 'traffic light' news ratings and detailed 'Nutrition Label' reviews, via a licensed copy of NewsGuard's browser extension" on students using news stories for research.

NewsGuard isn't a reliable source, however. A recent MRC study found that outlets rated "left" or "lean left" by AllSides received an average NewsGuard score of 93/100. Sites considered "right" or "lean right" by AllSides had an average NewsGuard rating of 66/100. The news "credibility" rater also has a major partnership with leftist Microsoft to fight alleged "disinformation."
As we've documented, that MRC "study" offered no evidence to dispute NewsGuard's findings, and AllSides is a right-leaning fact-checker with sloppy labeling whose work has been touted by the MRC before, making it immediately suspicious. Salgado went on to parrot an absurd attack issued by her boss:
MRC President Brent Bozell blasted the AFT-NewsGuard partnership, suggesting it is worse than critical race theory in public schools. "The left has found a dangerous and equally disingenuous new way to indoctrinate our children, without their parents knowing. NewsGuard is partnering with a national teacher's union to bring their biased ratings into classrooms nationwide. This is as bad as CRT. In fact, it's worse. Like CRT, it is designed to push a leftist ideology on children, but unlike CRT, the left is not going to give it a name this time. This is purposely designed to go under the radar of public scrutiny."
Judging a website's credibilty is "worse" than critical race theory? Only in Bozell's fevered brain.
Speaking of that bogus study, an anonymously written Feb. 1 post -- curiously credited only to "NB Staff," not any of the MRC writers who have been attacking NewsGuard for months -- tried to mount a counterattack when NewsGuard similarly stated that the study was "fundamentally flawed," leaning on AllSides' endorsement of the study to defend itself:
The leftist ratings firm NewsGuard criticized a Media Research Center study of the site's ratings, calling it "fundamentally flawed."

NewsGuard General Manager Matt Skibinski's letter made multiple inaccurate claims about the study, which analyzed the NewsGuard ratings of media outlets. Skibinski claimed the study was "based on a tiny sample of cherry-picked data." He continued: "NewsGuard has rated more than 7,500 news and information websites, but the NewsBusters analysis looked only at ratings of 24 websites it defines as right-leaning and 31 websites it defines as left-leaning--meaning the study examined a cherry-picked sample of just 0.7% of the websites we've rated."

However, Skibinski's claims that the list was "cherry-picked" and that MRC defined which sites were right-leaning and left-leaning are completely inaccurate. The MRC study relied on a list provided by AllSides — an independent organization given credence by the Poynter Institute — as a gauge. Skibinski claimed the "NewsBusters analysis looked only at ratings of 24 websites it defines as right-leaning and 31 websites it defines as left-leaning." This is false. The characterizations of outlets as "left," "lean left," "right" and "lean right" were provided by AllSides, not the MRC.

Skibinski must not have read the disclaimer written in bold black letters at the bottom of the study, which clearly pointed this out. The complaint that the MRC didn't look at all 7,500 sites it rated also mischaracterizes the purpose of the study. The study was based on a popular list compiled separately by AllSides which classified outlets by their "bias" on a left-to-right scale. The average NewsGuard score for "left" and "lean left" outlets was a high 93/100, while the average rating for "right" and "lean right" outlets was a low 66/100.

Even AllSides supported the MRC's findings in its own separate report:
Again, AllSides is a right-leaning operation, so the MRC touting how AllSides endorsed its so-called "study" is circular logic. And of course Skibinski's description of the sites the MRC chose for its study as "cherry-picked" was absolutely true; in a part of his letter the anonymous MRC writer decided not to highlight, NewsGuard has given perfect ratings to numerous sites, including a few on the AllSides list the MRC used, whcuh as Reason and the Deseret News (which the MRC insists is "liberal" based on two stories seven years apart despite the fact that the paper is owned by a division of the not-liberal Mormon Church). Skibinski also noted that NewsGuard has given another prominent conservative operation, the Daily Signal, a perfect rating, though it wasn't on the AllSides list.
The anonymous MRC writer didn't comment on another allegation Skibinski made -- that it made no effort to contact NewsGuard for a response to its study. By contrast, he wrote, "NewsGuard contacts websites for comment and feedback if it looks like they will fail any criteria." By noting that, Skibinski has exposed an inconvenient truth about the MRC: It's a partisan political operation, not a "research" organization, and putting out attacks without allowing anyone to respond beforehand is what a partisan political operation does.
Posted by Terry K. at 8:12 PM EST