MRC Hypocritically Accuses Biden Of Delegitimizing An Election
Topic: Media Research Center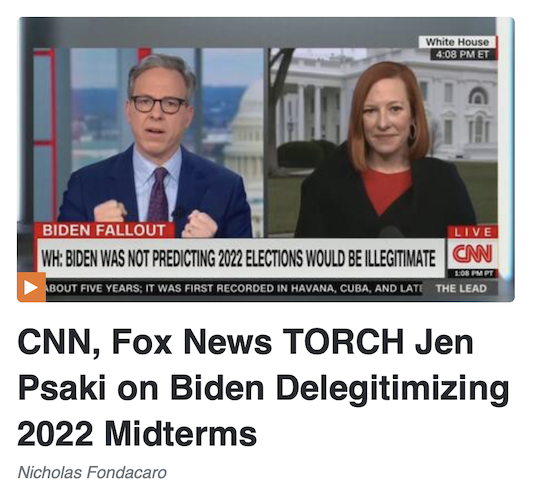 The Media Research Center has worked arm-in-arm with Donald Trump to delegitimize the 2020 presidential election, and it will never admit that Joe Biden beat Donald Trump fair and square, so it would be utterly hypocritical for the MRC to accuse others of trying to delegitimize an election. But because the MRC is filled with hypocrites, that's exactly what happened.
When President Biden accurately noted that Republicans were changing election laws to help Republicans and disadvantage Democrats, the MRC went into overdrive attacking the president. Brian Bradley demanded in a Jan. 20 post that Biden be censored:
Facebook and Twitter are doing nothing to curb flagrant disinformation spouted by President Joe Biden. During his press conference yesterday, Biden falsely claimed conservatives are already manipulating the 2022 midterm elections.

Biden on Wednesday said that Republicans are engaging in "unconstitutional" attempts to "stack the election and subvert the outcome." He was apparently referring to legislative efforts by 19 states to bolster election integrity.

Biden's communications team posted a video of the president's press conference to the White House Facebook page Wednesday afternoon. But as of 3:39 p.m. EST on Thursday, Meta still hadn't flagged the recording for election disinformation, contradicting the company's recent vows to crack down on "election interference." Facebook didn't respond to a request for comment.

[...]

Facebook's and Twitter's lack of intervention belies the platforms' efforts to censor conservatives who questioned the process and results of the 2020 election.

Facebook removed the "Stop the Steal" group in the aftermath of the 2020 election, announced an indefinite suspension of former President Donald Trump after the Jan. 6 Capitol riot and suppressed the distribution of an October 2020 New York Post story outlining alleged corruption between Ukraine and Joe and Hunter Biden.
Bradley didn't mention that, because the 2020 election wasn't stolen, the pro-Trump "Stop the Steal" campaign was fraudulent.
Later that day, Nicholas Fondacaro kept up the hypocritical outrage as he cheered news outlets bashing White House press secretary Jen Psaki for defending her boss:
In addition to making headlines by giving Russia the green light for a "minor incursion" into Ukraine during a press conference on Wednesday, President Biden dropped jaws when he declared the 2022 midterms would be illegitimate if the Senate didn't pass the federal takeover of elections. And it was a declaration that raised serious concerns on both sides of the aisle as White House Press Secretary Jen Psaki was relentlessly grilled by both CNN and Fox News Channel on Thursday.

That morning, Psaki took one for the team as she ran into the rhetorical buzz saw that was America's Newsroom >co-hosts Bill Hemmer and Dana Perino on FNC. "Last night, on the eve of his anniversary in office, those reforms failed. So, I'm curious if he will continue to say that those 2022 elections will be illegitimate," Perino pointedly asked.

Psaki responded with her usual word salad stating that "the President [had spoken to her] a lot about this and he absolutely is not predicting that the 2022 elections would be illegitimate" and how "the point he was making the former president asked a number of states, seven or more, in fact, to overturn the outcome of the election."
Fondacaro didn't mention that both his employer and Trump labored mightily to delegitimize the 2020 election.
Alex Christy was similiarly uniroinically outraged in a Jan. 21 post lashing out at CNN pointing out Republicans' hypocrisy in attacking Biden for making that claim:
Host Alisyn Camerota wondered what the big deal was, after all there are Republicans "who supported Trump's false election claims won elections to serve as local judges and election inspectors. This is what President Biden was referring to, I think."

Politico White House correspondent Laura Barron-Lopez agreed and claimed the entire controversy is simply because Biden gave inartful response: "Yeah, I agree with you, Alisyn. And look, should the president have been more clear and careful in his statement? Yes. Should the press seek clarification and the White House has sought to clarify what he meant, which was to talk about election subversion? Yes. They should do that."
Fonodacaro went misogynistic in another Jan. 21 post, smearing a group of outspoken women -- the hosts of "The View" -- as a "coven":
The unhinged coven on ABC's The View busted out their tinfoil hats on Friday, as they peppered White House Press Secretary Jen Psaki with crackpot conspiracy theories suggesting the 2022 midterm elections would be illegitimate because Republicans were stealing away voting rights from black people. All of which are false.

Loopy CNNer and co-host Ana Navarro was the most direct in demanding Psaki answer discredit the elections that were 10 months away. She even seemed frustrated that President Biden had walked back his claims at a Wednesday press conference where he asserted the 2022 results should not be trusted:
Again, Fondacaro didn't mention that the MRC tried to delegitimize the 2020 election and that Trump still is -- doing the "dangerous conspiracy theory peddling" that he accuses the "View" hosts of doing, and which the MRC has refused to distance itself from, let alone call out as dangerous.
Posted by Terry K. at 8:42 PM EST