CNS Again Embraces Gabbard As A Not-Very-Democratic Democrat
Topic: CNSNews.com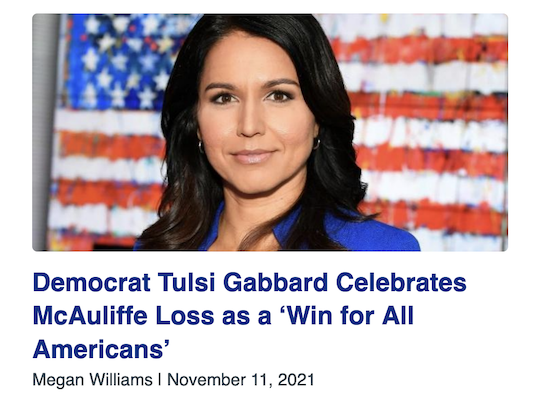 In the 2020 presidential election cycle, CNSNews.com embraced (along with its Media Research Center parent) Tulsi Gabbard as a Democratic presidential candidate because wasn't a real democrat -- she loved Donald Trump and hated Hilary Clinton (but don't mention her unusual closeness with Russia). Well, Gabbard is acting like the MRC's version of a Fox News Democrat again, and CNS is happy to be her stenographer.
Craig Bannister gushed over Gabbard in a Nov. 4 article:
Tulsi Gabbard, who campaigned against Joe Biden to become the Democrat Party's 2020 presidential candidate, cheered Republican Glenn Youngkin's upset win in Tuesday's Virginia gubernatorial election.

Gabbard, a veteran and former Hawaii Democrat congresswoman, did not run for election in 2020. She is currently serving as a lieutenant colonel in the U.S. Army Reserve.

In a Wednesday Twitter post, Gabbard described Youngkin's defeat of Virginia's incumbent Democrat Gov. Terry McAuliffe as a win for all Americans:
CNS loved Gabbard's tweet so much, it made its fall intern Megan Williams write a story about it a week later, under nearly the exact same headline as Bannister's article:
Former Democratic House Rep. Tulsi Gabbard (Hawaii) called Democrat Terry McAuliffe's Virginia gubernatorial loss a "win for all Americans."

"McAuliffe's loss is a victory for all Americans. Why? Because it was a resounding rejection of efforts to divide us by race, the stripping of parental rights, and arrogant, deaf leaders. This benefits us all," Gabbard tweeted on Nov. 3.
The rest of Williams' article detailed a Gabbard appearance on Fox News a few days later, which sound journalism dictates should have been the lead, not her week=old tweet. But CNS loves to devote multiple articles to pushing the exact same talking points.
Bannister returned on Nov. 29 to devote another article to Gabbard sounding like a Repuiblican:
Americans are struggling to buy the things they need, due to rampant inflation, and Democrats' multi-trillion "Build Back Better" (BBB) bill will push costs even higher, Former Democrat Hawaii Congresswoman Tulsi Gabbard says.

What's more, the bill would fund "87,000 more IRS agents harassing regular folks," Gabbard warned Monday in a tweet introducing a video of her analysis:

[...]

While Americans are struggling to make ends meet, they're also frustrated that Democrats in Washington are ignoring their needs and, instead, are pushing a spending bill that would make products even more expensive, Gabbard says in her video:
To emphasize the point that Gabbard sounds like a Republican, Bannister linked to Republican talking points on Build Back Better. That sort of gives away the game, no?
Posted by Terry K. at 2:15 PM EST