WND Responds To Biden's Jan. 6 Speech With Right-Wing Talking Points
Topic: WorldNetDaily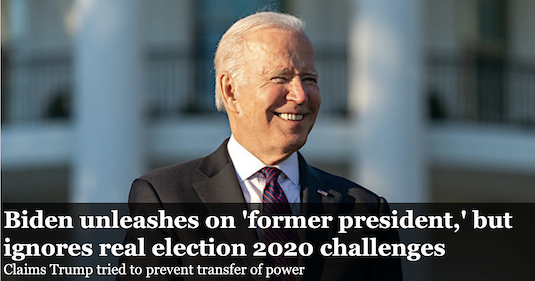 Like its ConWeb compatriots at Newsmax, the Media Research Center and CNS, WorldNetDaily spent the anniversary of the Capitol riot playing defense and distraction and whining that the coverage might make people think bad thoughts about Donald Trump and Republicans. Unlke them, though, WND tried to cram a lot of it into a single article. Bob Unruh set up the premise in a Jan. 6 article that's ostensibly a "news" story about President Biden's speech that day:
Joe Biden on Thursday, the anniversary of the Jan. 6, 2021, riot at the U.S. Capitol, unleashed a vitriolic attack on "former president" Donald Trump, but ignored the evidence that there were, in fact, issues coming out of the 2020 presidential election that should cause concern for Americans.

Those issues are that a review of the impact of the decision by leftist legacy and social media companies to suppress accurate reporting about Hunter Biden and his foreign dealings, some apparently involving Joe Biden, revealed that had those reports been carried more widely, enough people would have withheld their vote for Joe Biden to keep Trump in the White House.

Further, an analysis confirmed that the $420 million that leftist Mark Zuckerberg of Meta handed out to mostly local election officials often with instructions to recruit Democrat voters changed enough results to turn the White House over to Biden.
What followed was a lengthy rehash of various and sundry pro-Trump, anti-Democrat grievances WND has been peddling oer the past year:
He complained that "Biden described last year's events as an 'armed insurrection,' when the rioters were neither armed nor have they been charged with 'insurrection.'" The police officers who were beaten by rioters using fire extinguishers and flagpoles would beg to differ on them not being "armed."
Another complaint: "Vice President Kamala Harris, whose office has been beset in recent weeks by multiple departures of key staff members, likened the riot, for which some 700 Americans are facing mostly trespassing and vandalism charges, to the thousands of Americans killed on Dec. 7, 1941, and Sept. 11, 2001." Unruh didn't explain the relevance of mentioning turnover issues in Harris' office, n or did he explain how there were different from turnover issues throughout the Trump White House.
He whined that "While GOP legislatures in states have been working on election integrity laws, Democrats in Washington are demanding that they be given authority to control all elections nationwide."
He touted Trump's response to the speech, in which he "noted House Speaker Nancy Pelosi's partisan special committee to "investigate" the Jan. 6 events, which is recognized by many as a Democratic way to incorporated those circumstances into their campaigns against Republicans, and wondered why it was not investigating the full events of the 2020 race."
Unruh also rehashed a weird attack involving another right-wing bugaboo, the moneyFacebook's Mark Zuckerberg made available through his foundation to help fund the 2020 election:
WND reported earlier when research revealed that Zuckerberg handed over a total of $419.5 million to the Center for Technology and Civil Life and the Center for Election Innovation and Research leading up to the 2020 presidential election, and the two groups used it to buy Democrat [sic] votes.

Essentially.

With that money, a person could purchase 137,540,983 Chick-fil-A sandwiches. Or 276,550 new Ferrari F8 Tributos, or 278 homes in San Francisco. Or one presidential election.

The warning came from William Doyle, a principal researcher at Caesar Rodney Election Research Institute in Irving, Texas, who explained his findings in a report at The Federalist.

He said Zuckerberg's money was used "to turn out likely Democratic voters."
The fact that the Caesar Rodney Institiute made its presentation about the so-called "Zuckerbucks" at the right-wing Federalist is all you need to know about the report's bias. The fact that Unruh felt the need to quickly add the word "essentially" to his claim that the money was used "to buy Democrat [sic] votes" also shows that's not what the money actually did. As we've noted, Zuckerberg made money available to all election agencies regardless of political leanings, which was used for various purposes, and even a report from the right-wing Foundation for Government Accountability offered no substantive evidence the money was used for partisan purposes.
Unruh noted that the Caesar Rodney report claimed that "in Wisconsin, for example, 'vote navigators' helped voters 'to answer questions, assist in ballot curing … and witness absentee ballot signatures,'" but didn't explain why this was a bad thing or why it equatd to turning out Democrats. He further groused:
The report noted of 26 grants of $1 million or more that CTCL gave to cities in Arizona and six other states, "25 went to areas Biden won in 2020."

In Wisconsin, "The CTCL funds boosted Democratic-voting Green Bay resources to $47 per voter, while most rural areas still had the same $4 per voter. Similar funding disparities occurred near Detroit, Atlanta, Philadelphia, Pittsburgh, Flint, Dallas, Houston, and other cities that received tens of millions of dollars of CTCL money."
He didn't mention that, again, money went to both Democratic and Republican-leaning counties, and the distribution is reflective of who applied for the money. Republican-leaning counties could have applied to receive money but chose not to.
Unruh had another right-wing talking point to push:
WND also reported that more than one-third of voters who chose Joe Biden were not aware of the evidence linking the former vice president to corrupt financial dealings with China through his son Hunter.

Had they known, according to the survey commissioned bv the Media Research Center, President Trump would have won at least 289 Electoral College votes.

The survey found that 13% voters of the voters who said they were unaware of the scandals would not have voted for Biden had they been made aware.

That amounted to 4.6% of Biden's total votes.
As we've documented, that survey was done for the MRC by McLaughlin & Associates -- which worked as the pollstert for Trump's 2020 campaign. That means the poll is hardly an objective representation of things.
The fact that Unruh is all about tired, copied-and-pasted talking points and nothing about actual journalism is one more reason why WND is going down the tubes.
Posted by Terry K. at 5:42 PM EST
Updated: Tuesday, February 22, 2022 5:43 PM EST