CNS' Resident Homophobe Decries Conversion Therapy Ban In Canada
Topic: CNSNews.com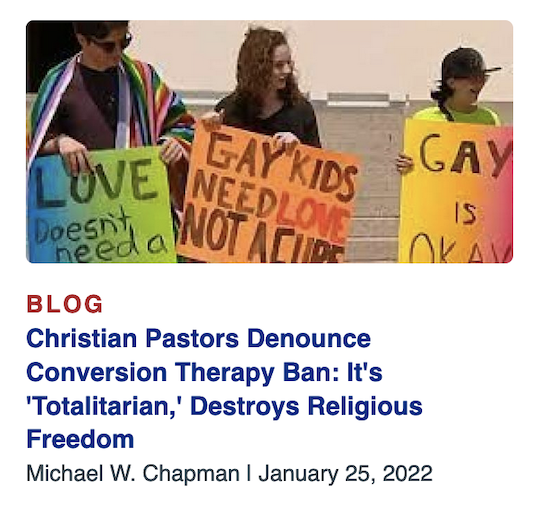 CNSNews.com managing editor Michael W. Chapman is virulently anti-LGBT, so it's no surprise that he came out against Canada's new law banning anti-gay conversion therapy. He wrote in a Jan. 25 article touting fellow homophobes:
After Canada passed a law banning conversion therapy for people who may want to escape homosexuality, an estimated 4,000 Christian leaders in Canada and the U.S. spoke out on Jan. 16 against the ban, describing it as "totalitarian" and a clear threat to religious freedom.

Many Canadian pastors expressed concern about what they could now say in public about the Bible's admonitions against homosexual behavior, and U.S. pastors warned that similar draconian measures are coming to America. Violating the new law in Canada could lead to a five-year prison sentence.

Pastor John MacArthur, head of Grace Community Church in Los Angeles, sent a letter to pastors about the new law and warned of its consequences. "I am eager to support our Canadian brothers and to preach on biblical sexual morality on January 16, and I invite you as a faithful pastor to do the same," he wrote.

"Our united stand will put the Canadian and the U.S. governments on notice that they have attacked the Word of God," he added. "We are all well-aware of the evil power and destructive influence of the homosexual and transgender ideology. Our government is bent on not only normalizing this perversion, but also legalizing it, and furthermore criminalizing opposition to it."
What Chapman, didn't do, of course, is report why conversion therapy was banned: it doesn't work and tends to be harmful to the therapy target. As a less biased news organization pointed out, medical associations around the globe have discredited it, given that it's based on the false premise that sexual orientation and gender identity can or should be "cured."
Chapman offered on explanation for why LGBT people must be turned into heterosexuals -- forcibly if necessary. Instead, he quoted other anti-LGBT pastors ranting about "totalitarianism" and the purported destruction of "Western civilization," nad he tossed in his favorite non-Catholic preacher, Franklin Graham, warning of "legal oppression." Chapman closed by quoting anti-gay Bible verses.
This is what CNS considers to be "news."
Posted by Terry K. at 4:31 PM EST