Newsmax Hires Even More Dubious On-Air Talent
Topic: Newsmax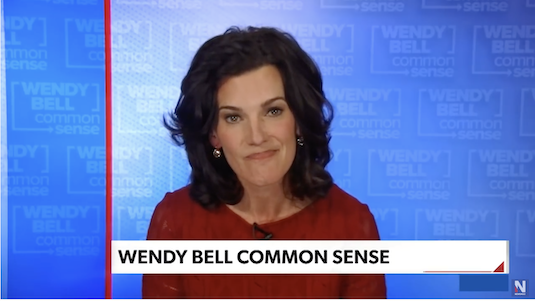 Newsmax is continuing its recent history of making questionable hires. One of them was announced in a Jan. 26 article:
Newsmax Media Inc. announced Wednesday that 21-time Emmy Award-winner Wendy Bell on Saturday will premiere her new show, "Wendy Bell Common Sense," which will examine the news of the day with a lively approach to national issues.

The 28-year broadcast veteran of nationally syndicated and network affiliate news will delve deep into topics and concerns with interviews and roundtables in her weekly show airing 4:30 p.m. ET Saturdays on Newsmax. The show also will air Sundays at 3:30 p.m. ET.

"People are hungry for common sense in this country, and that's what this new program is about," Bell said. "Telling the truth, having great conversations, talking about what really matters. It's going to be outstanding."

[...]

"Wendy Bell has had a remarkable career as a television journalist and radio host, and throughout it all has been an advocate of common sense and American values," Newsmax CEO Chris Ruddy said. "We are glad to have her on the Newsmax team."
While the article noted Bell's previous radio gigs, it didn't tell the whole story about her. As the Daily Beast detailed, she has a history of making inflammatory statements on radio in Pittsburgh:
Bell was fired by WTAE in March 2016, after nearly 20 years at the station, over comments she made on Facebook that sparked accusations of racism. Following a deadly mass shooting at a Pittsburgh-area cookout, she wrote: "You needn't be a criminal profiler to draw a mental sketch of the killers who broke so many hearts two weeks ago... they are young black men, likely in their teens or early 20s."

While opining that the shooters likely "have multiple siblings from multiple fathers and their mothers work multiple jobs," Bell—who is white—also praised a Black teen she said she saw working hard in a local restaurant. "He's going to Make It," she wrote.

[...]

After landing at KDKA-AM radio, Bell sparked controversy again in September 2020 when she was yanked off the air after openly advocating for park rangers to shoot "on sight" protesters who pull down problematic monuments.
Newsmax has also hired Bianca de la Garza as a co-host of a midday show. Prior to that, she had worked on TV in Boston, then moved on to TV production and other various business ventures. But as the Daily Beast also detailed, "de la Garza's lifestyle and production company were financed by millions worth of embezzled funds": A close friend, Richard Hajjar, embezzled $30 million from the shoe company where he was chief financial officer, and more than half of that went to de la Garza in the form of money transferred to her and gifts and vacations lavished on her. She was never charged, and she denied knowledge of where all the money came from. Pretty much all the money was spent, and she r"eached a confidential settlement" with the shoe company to return what little was left.
The Daily Beast also noted that de la Garza's job status at Newsmax is a bit under the radar: "The network never publicly acknowledged de la Garza's hiring. Despite anchoring the midday broadcast, she is not currently under contract with Newsmax, suggesting she's trying out with the network in a freelance capacity."
Newsmax sure knows how to pick 'em, doesn't it?
Posted by Terry K. at 2:07 PM EST