Fake News: WND Uncritically Repeats Trump's False Claim About Pelosi, National Guard
Topic: WorldNetDaily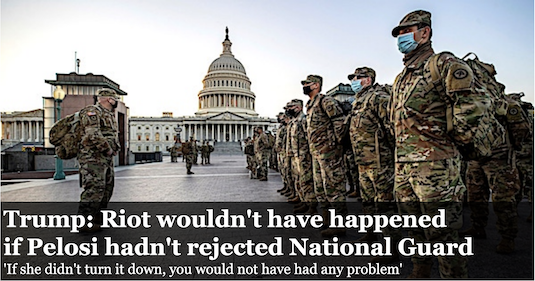 Bob Unruh subserviently wrote in a Jan. 21 article:
House Speaker Nancy Pelosi's partisan congressional committee assigned to review the Jan. 6, 2021, Capitol riot hasn't put her on the schedule for questioning.

And they're not likely to, as they apparently are trying to send the message that all of the fault rests with President Trump.

But Trump said it's Pelosi who actually holds a responsibility for the events of that day.

He said during an interview with Fox News host Sean Hannity, according to a report from Just the News, that he authorized 20,000 National Guard troops to be on hand that day.

But Pelosi refused them.

The 20,000 troops would have handled, easily, the few hundreds who went to the building and broke windows or doors, and entered and vandalized. Many hundreds others simply walked through open doors, sometimes held for them by security officers, to walk around and take selfies.

Hannity asked Trump if he authorized use of the National Guard for that day.

"100%," Trump said. He said there are many witnesses to that decision.

He continued, "They turned it down. Nancy Pelosi turned it down."

[...]

Trump said he wanted 10,000 Guard members available, and upped that to 20,000 based on a suggestion from Kash Patel, chief of staff to the acting secretary of defense.

"I wanted to have soldiers and/or National Guard, and Nancy Pelosi turned it down, and if she didn't turn it down, you would not have had any problem," Trump said.
Unruh is not going to tell yuou that Trump's claim is false. As one fact-checker wrote, "There is no evidence Trump made any formal request about deploying 10,000 National Guard troops before the rally":
A government memo about the events leading up to Jan. 6, statements from Pelosi's office and the Pentagon and testimony from the former House sergeant-at-arms show Trump did not request 10,000 troops ahead of the rally.
Drew Hammill, Pelosi's spokesperson, told USA TODAY that Pelosi's office was not consulted or contacted regarding any request for the National Guard ahead of Jan. 6, and he noted the speaker of the House does not have the power to reject that type of request.
Trump's claim that Pelosi was in charge of security at the Capitol on the day of the riot is also not true: "The Capitol Police are overseen by a number of entities and individuals, none of whom are Pelosi."
The fact that Unruh has no interest in reporting is one major reason why WND is going down the tubes.
Posted by Terry K. at 8:05 PM EST