MRC Unsurprisingly Rushes To Defend Doocy Over Biden Insult
Topic: Media Research Center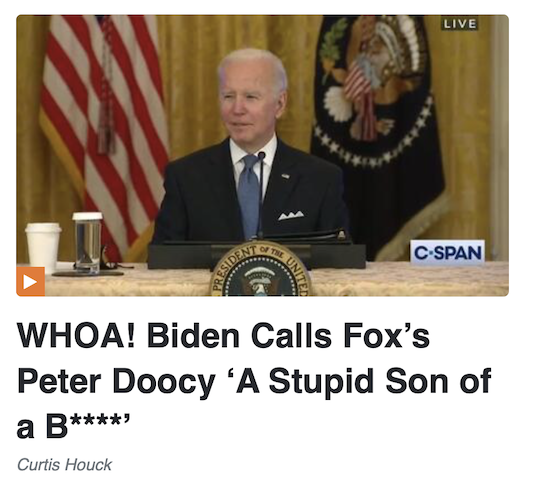 The Media Research Center -- led by Curtis Houck -- has spent the past year being embarrassingly fawning over Fox News reporter Peter Doocy's biased, hostile questions at Jen Psaki's White House press briefings. Most recently, Houck fawned again over the hostile questions Doocy fired at President Biden. So when Biden muttered a few days later that Doocy was a "stupid son of a bitch," you know the MRC had days of manufactured outrage to come over it (despite its embrace of the "Let's Go Brandon" insult and cheering Joe Rogan calling Brian Stelter a "motherf*cker").Houck kicked off the faux outrage by setting the scene:
Early Monday evening, following remarks at the start of a White House Competition Council meeting, President Biden lashed out at Fox News White House correspondent Peter Doocy as "a stupid son of a bitch" and mocked inflation as "a great asset" to the economy.

It began when Biden finished his opening remarks and gave way to White House Council of Economic Advisers Chairman Brian Deese, who appeared to have hinted off-mic the press pool gathered would be leaving before the meeting could continue.

[...]

CBS's Ed O'Keefe and The Wall Street Journal's Catherine Lucey could be heard trying to ask about Ukraine, but Doocy stuck to the economy since that was the reason they were in the room to begin with: "Will you take questions on inflation then? Do you think inflation is a political liability ahead of the midterms?"

Biden barely hesitated in shooting back as White House aides kept shouting for reporters to leave: "That's a great asset. More inflation? What a stupid son of a bitch."
Houck was in full Doocy-fluffing form here, touting how Doocy later went on Fox News to offer "his first-=person account," and even lauding his press briefing appearace earlier in the day, where he hurled more biased questions at Psaki.
The next day, Houck ramped up the Doocy smarm by portraying the biased repoirter as a mature man:
Fox News White House correspondent Peter Doocy continued to show on Monday night a level of class, light-heartedness, and professionalism most of the liberal media lack as he shared that President Biden called him to "clear the air" after blasting him as "a stupid son of a bitch" earlier in the day. In fact, Doocy told Sean Hannity that, now Biden said it was "nothing personal, pal," it was "enough" and time to "move on."
Yes, nothing says "class" and "professionalism" like Doocy rushing to talk about the incident with the hateful, hyperpartisan Hannity.
The MRC's "Editor's Pick" on Jan. 25 was an article from the right-wing The Blaze whining that CNN's Brian Stelter wouldn't make the insult the federal case that right-wingers want it to be. That was followd by Scott Whitlock complaining that "All three networks on Monday night and Tuesday morning offered sympathy for Joe Biden" over the insults, going on to sneer, "As Biden's gaffes and 'hot mic' moments pile up, look for the networks to continue to argue for understanding and empathy towards our "frustrated" and sometimes bewildered President."
Houck returned later that day with a serious piece of dishonesty:
Appearing on Monday's Jimmy Kimmel Live!, CNN host Jake Tapper falsely claimed to the eponymous ABC host that Peter Doocy's employer in Fox News "would never come to my defense" if a president called him "a stupid son of a bitch" as President Biden did hours earlier to the Fox White House correspondent.

Tapper's claim was not only a lie, but laughable one given the fact that Fox News repeatedly stood with CNN when the Trump administration repeatedly tried to bar them from events and even denounced Trump's use of the term "enemy of the people."
But Tapper referred to himself in the first person -- not CNN as a whole. Houck is being very dishonest by trying to play gotcha by deliberately misreading what Tapper said.
Nicholas Fondacaro mixed his Doocy-fluffing with sexist insults:
Even with Fox News White House correspondent Peter Doocy being a class act and asking everyone to "move on" from President Biden calling him a "stupid son of bitch," the cackling coven on ABC's The View kicked off Tuesday's show by suggesting Doocy got what was coming to him because he asks "endless stupid questions," with unhinged co-host Joy Behar predicting Doocy would be "fired pretty soon" for acting like an adult in response to Biden's childishness.

[...]

Behar had her own immature outburst against Doocy last week when she mocked his name as Peter "Douchey."
Is that more or less immature than referring to "The View" hosts as a "cackling coven"? Fondacaro didn't elaborate.
Fondacaro had more insults to hurl later in the day:
Of course, the liberal hacks and Democratic Party lackeys at CNN thought Fox News White House correspondent Peter Doocy had earned President Biden's insult. And that's exactly the argument CNN's anti-Fox hatchetman Brian Stelter made on Tuesday's CNN Newsroom, suggesting Doocy's question about inflation and the midterms was a "provocation" as he lamented "Biden took the bait."

According to Stelter, " the question was less a question and more a provocation" to elicit that kind of reaction from the President.

[...]

After co-hosts Alisyn Camerota and Victor Blackwell, and Stelter sympathized with Biden over having "hot mic" moments, Stelter compared Biden's insult to the ones former President Trump would throw out and not apologize for.
It's quite difficult for Fondacaro to be credibly outraged over biden's insult when he can't stop insulting people who say things he doesn't like.
Jorge Bonilla took the faux outrage to Spanish-language media, first being complemetary that "For a brief moment Univision, the nation's leading Spanish-language network, showed moral clarity by reporting a story unfavorable to Democrats in an unbiased manner" before devolving into whining whataboutism regarding the channel's alleged "framing of Fox as being constantly critical of Biden, as if we are somehow expected to forget Univision's behavior over the past decade."
Whitlock went full whataboutism in a Jan. 26 "flashback" post:
Don't look to Chuck Todd to speak truth to a swearing Joe Biden. The MSNBC journalist on Tuesday offered no response to the President lashing out at Fox reporter Peter Doocy as a "stupid son of a bitch." He tweeted nothing about it. This is quite the contrast from when then-President Donald Trump spewed his own vulgarity in 2018.

[...]

Now, it's true that Trump unloaded public vulgarities much more frequently than Biden. Also, what he said was about Todd. But on MTP Daily Todd has nothing (so far) to say about the January 24th exchange between Biden and Doocy[.]
Houck may have been slacking off on his self-appointed job of Doocy-fluffing and Psaki-bashing so far this year, but his writeup of the Jan. 26 briefing only referenced the insult in passing in order to fluff Doocy anew about how "it was back to business Tuesday in the White House Briefing Room a day after President Biden called Fox's Peter Doocy 'a stupid son of a bitch' and then called him to hash it out. Doocy led the way in shifting focus back to the news, battling Press Secretary Jen Psaki over illegal immigration and the crisis at the Russia-Ukraine border."
But the MRC still wasn't done obsessing over this. More shortly.
Posted by Terry K. at 9:33 PM EST