The MRC's War on Jen Psaki (And Man-Crush On Peter Doocy): November/ December 2021
The Media Research Center's Curtis Houck seemed to be getting bored with his job, as his Psaki-bashing and Doocy-gasming became more sporadic as the year came to a close.
By Terry Krepel
Posted 1/20/2022
---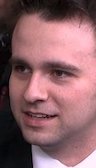 Curtis Houck
Curtis Houck apparently got bored with his relentless Jen Psaki-bashing and his man-crushing over Peter Doocy -- after writing his highly biased review of what dismissively calls "The Psaki Show" on Oct. 22, he didn't write one for more than three weeks. Part of that time, though, Psaki was off duty after being diagnosed for COVID, though briefings continued under deputy press secretary Karine Jean-Pierre, whom Houck has denigrated as a diversity hire and a beneficiary of "diversity bingo." Apparently Houck hates Jean-Pierre so much that he refuses to even review her hearings for the same lashing-out screeds he piles on Psaki.

Thus, it was the duty of Scott Whitlock to look at a Nov. 8 briefing by Jean-Pierre, albeit only to complain that the "liberal media" aren't covering questions from the briefing about "the latest terrible polls for Joe Biden" (whom Whitlock apparently still won't acknowledge won the election and is president).Whitlock complained that Jean-Pierre served up "talking points" for one question and "stonewalled" another, but he didn't explain how that was any different from how any given Trump White House press secretary had behaved.

Houck didn't return to briefing writeups until Psaki did. In writing about the Nov. 12 briefing, he seemed sad that "Fox's Peter Doocy wasn't in attendance" but happy that someone asked about "Let's Go Brandon" chants. But he did latch on to another biased right-wing reporter in Doocy's stead:
And with Doocy not in attendance, it was Jacqui Time in the Briefing Room as Fox colleague Jacqui Heinrich drew lengthy Psaki word salads with denial dressings on gas prices and then a study from the Tax Policy Center that revealed Biden's so-called human infrastructure plan would lower taxes on wealthy Americans rather than raise them[.]
For the Nov. 15 briefing, though, Doocy was back and Houck was in full Doocy-gasm mode:
After not having been around for Friday's return of The Psaki Show, Fox's Peter Doocy made the most of his first crack at Press Secretary Jen Psaki on Monday's installment with hardballs on President Biden's past comments smearing Kyle Rittenhouse, new reports about tension between the White House and Vice President Harris, and whether the U.S. government will boycott the 2022 Winter Olympics in Beijing.

Doocy started his turn by getting right to the chase on China: "Ahead of this meeting with President Xi, is President Biden considering a diplomatic boycott of the Beijing Olympics this winter?"

Just as she did on Friday when asked by Reuters's Andrea Shalal, Psaki ducked and refused to stand up for human rights, saying she doesn't "have anything beyond that for you."

[...]

Doocy wrapped by drilling down on President Biden's attacks on Rittenhouse just after the August 25, 2020 shootings: "Why did President Biden suggest that Kyle Rittenhouse, on trial in Kenosha, is a white supremacist?"

[...]

Doocy tried again, pointing out the fact that Biden did weigh in and "Kyle Rittenhouse's mom came out saying that the President defamed her son and...she claims that when the President suggested her son is a white supremacist, he was doing that to win votes."

Questioned whether that was the case, Psaki made it clear she was done: "I just having nothing more to speak to — an ongoing case where the closing arguments were just made."
Houck then went on another vacay from his brief-bashing duties. He didn't return until Nov. 23, when he had another Doocy-gasm under the ridiculously hateful yet word-salady headline "Doocy Stuff's Psaki's Gobbles":
In the final episode of The Psaki Show before Thanksgiving, Fox News White House correspondent Peter Doocy went into the break with a bang as he grilled Jen Psaki over far-left Democratic Congresswoman Rashida Tlaib's proposal to abolish prisons, pressing for answers on whether President Biden will apologize for impugning Kyle Rittenhouse's character, the record costs for Thanksgiving dinner, and Biden's holiday vacation to Nantucket.

[...]

The Fox reporter moved on to Rittenhouse and followed up on questions he asked from November 15: "Would the President ever apologize to the acquitted Kenosha shooter Kyle Rittenhouse for suggesting online and on TV that he is a white supremacist?"

Predictably, Psaki made it all about Donald Trump: "[T]his is about a campaign video release last year that used President Trump's own words during a debate as he refused to condemn white supremacists and militia groups."

Without stating it, Psaki appeared to give oxygen to Biden's lie, saying he's called out "the tragic consequences of" extremists feeling emboldened to the point "when people think it is okay to take the law into their own hands instead of allowing law enforcement to do its job."
Houck refused to highlight that there is evidence of Rittenhouse having white supremacist sympathies, in the form of him hanging out with the Proud Boys and flashing hate symbols shortly after he killed two people and wounded another, so Biden is not "lying" at all. Psaki did point that out in her response to Doocy, but Houck left that buried in a transcript.
There was more sucking up to Doocy for the Nov. 29 briefing:
The Psaki Show returned Monday following the Thanksgiving holiday with a packed show on the heels of the Omicron variant of the coronavirus and a host of new travel restrictions. So, it fell to Fox News White House correspondent Peter Doocy to question Press Secretary Jen Psaki on, among other issues, President Biden's hypocrisy on Covid travel bans and his latest mask faux pas.

Doocy cut right to the chase with a question no one had asked Biden following his Covid remarks or Psaki prior to his turn: "Before Joe Biden was President, he said that Covid travel restrictions on foreign countries were 'hysterical,' 'xenophobia,' and 'fearmongering.' So, what changed?"

Possessing zero shame, Psaki insisted he "put it in full context," which was supposedly about Biden being "critical of was the way that the former President put out, I believe, a xenophobic tweet, in how he called — what he called the coronavirus, and — and who he directed it at."

Psaki added that Biden "has not been critical of travel restrictions" since "we have put those in place ourselves" to "follow the advice of health and medical experts."

As our friend Matt Whitlock pointed out, Psaki's response should be torn to pieces by the so-called fact-checkers in the establishment press as Biden did indeed denounce the China ban.
Actually, Houck's friend is wrong -- not once did Biden reference the China travel ban when he accused Trump of xenophobia, and he later expressed support for travel bans.
In the midst of more Doocy-gasming, Houck actually got mad at Psaki for pointing out that Biden is following the law on the southern border:
Touching on two other topics before wrapping, Doocy applied the same pressure he did on travel bans with one about the Remain in Mexico policy: "Joe Biden once described the Remain in Mexico policy as 'dangerous,'' inhumane,' 'goes against everything we stand for as a nation of immigrants.' So, why is he keeping it?"

Psaki affirmed Biden "continues to stand behind exactly those comments and statements," but the administration has had to reimplement it due to a court order, which Doocy took as time to move to the last question.

Pointing out that Biden said last week his "administration is monitoring the situation in Waukesha closely" and how it's since "revealed by prosecutors that the assailant — the assailant swerved his truck side-to-side as part of an intentional act to run over as many people as possible," Doocy wondered why Biden hasn't gone to visit the victims.

Using a line that would have been ridiculed if uttered by a Trump official, Psaki emphasized that "our hearts go out to this community" and they were "in touch...with officials," but there's no trip to announce because "any president going to visit a community requires a lot of assets" and "requires taking their resources."
Because Houck and the MRC remain Trump stans, he would never have ridiculed Trump for saying such a thing, because we know that unlike Biden, Trump is an attention-glomming egomaniac who has a pathological need to insert himself in the middle of everything.
Houck was in full Doocy-gasm mode again for the Dec. 1 briefing, which also featured Anthony Fauci:
With the liberal media in a tailspin over the omicron strain of the coronavirus, Wednesday's White House press briefing was jam-packed with both Press Secretary Jen Psaki and Dr. Antony [sic] Fauci, so Fox's Peter Doocy naturally brought the heat and actually challenged the administration while other lobbed fear-mongering questions.

When Doocy first got a crack at Fauci, he set Fauci up with a seemingly benign question: "Dr. Fauci, as you have advised the President about the possibility of new testing requirements for people coming into this country, does that include everybody?"

[...]

Skip ahead to Psaki's turn and, after wishing her a happy birthday, Doocy hit the administration for demanding "these vaccine mandates for workers" despite the fact that "federal courts are saying that they don't know if they're legal" and Biden "talks about...respecting the rule of law[.]"

Psaki said she needed to "clarify exactly what we're talking about" and claimed "a lot of companies" are implementing mandates even without the force of the federal government because "it makes sure they have a healthier workplace," so it's almost irrelevant.

Doocy grew blunter in his next question: "[W]hat ever happened to President Biden's promise to shut down the virus?"

After Psaki said they're still "working on it," Doocy noted that "there's another variant" and thus has the White House's thinking shifted to telling Americans "that the President, instead of shutting down the virus, is going to try to help people live amidst the virus and go about their lives[.]"

Of course, Psaki said people should know that the administration is "all sick and tired of this virus," but blames it on the fact that not enough Americans are vaccinated.
Houck went on to obsequiously gush over another "zinger" question from Doocy.
Houck cheered on Doocy's partisan shots at Vice President Kamala Harris at the Dec. 2 briefing:
The omicron strain of the coronavirus continued to suck up much of the oxygen on Thursday as the liberal media's fear machine dominated The Psaki Show, but Fox's Peter Doocy focused on other topics as he sparred with White House Press Secretary Jen Psaki over the staffing turmoil in Vice President Kamala Harris's office and the rampant crime in American cities.

After citing the confirmed and reported staffing changes, Doocy didn't waste any time in firing off this question: "Is the Vice President not satisfied with the staffing that she has had so far or do people just not want to work for her anymore?"

Psaki did her job as well, insisting that "working on a presidential campaign...and working in the first year of a White House is exciting and rewarding but it's also grueling and exhausting" and thus "it's natural for staffers who've thrown their heart and soul into a job to be ready to move on to a new challenge."

After she added she wouldn't speak to any particular announcements other than Symone Sanders's departure and Harris's office would have more information, Doocy pressed as to whether it's "not a case of bad headlines...and a decision...to shake" things "up...to fix an image issue."

Psaki made clear she wouldn't have much else to say besides complimenting Sanders, so Doocy broadened things out and specifically whether Harris believes her "staff are to blame for her not making any kind of meaningful progress on the big things in portfolio" like immigration and voting.

Again, Psaki wasn't interested, leaving Doocy to pivot to crime and citing how big cities are dealing with smash-and-grab robberies, a record number of police officers have been shot and killed this year."
Apparently, Houck can't fathom why Psaki might get tired of taking hostile, biased questions from a partisan reporter.
Houck continued his role as Fox News press release writer with more Doocy-gasming at the Dec. 3 briefing:
An ill President Biden served as a focus of Friday's White House press briefing, so it was natural that Fox's Peter Doocy was in the middle of it in questioning Press Secretary Jen Psaki on that as well as the Build Back Better (BBB) Act and China's refusal to allow for a complete investigation into the origins of the coronavirus.

Similarly, Real Clear Politics's Philip Wegmann drilled home the plight of Chinese Uighurs and Voice of America's Patsy Widakuswara brought up new Chinese provocations against Taiwan. At the opposite end of the spectrum, others continued pushing draconian Covid mandates with one trumpeting an Orwellian move out of Germany.

Doocy led with BBB and specifically whether there was "any thought...to maybe waiting for Build Back Better until a month that you don't have this big miss in the jobs report?"

Psaki quipped there were "a lot of things gathered into that question," but she rejected the premise by returning to past White House talking points dismissing the CBO.

[...]

Doocy thanked Psaki and said he would "include that in our coverage," but things got even more amusing when Doocy broke the fourth wall:

PSAKI: I look forward to seeing it on Fox later today.

DOOCY: It's on Fox right now, I think. [POINTS AT THE CAMERA]

PSAKI: I bet it is.
Then again, Fox News couldn't possibly pay Houck enough for all the fangirling he does over Doocy.
Houck found a biased right-wing reporter whose name wasn't Peter Doocy to ask hostile questions to Jen Psaki during the Dec. 6 White House briefing:
During Monday's episode of The Psaki Show, New York Post reporter Steven Nelson made the most of his infrequent opportunities to question Press Secretary Jen Psaki by invoking news about Hunter Biden's Chinese business dealings and Miranda Devine's new book about Hunter's laptop. However, Psaki wanted nothing to do with either of them

Nelson began by citing a new and "big report" out of the Biden administration concerning "corruption" as a way of asking "two quick and hopefully pretty easy questions about that"(which ironically cited art sales as a key vehicle for money laundering).

[...]

Predictably, Psaki dismissed its importance since "the President's son is not an employee of the federal government, so I'd point you to his representatives."

As for the Devine book, The Laptop From Hell, Nelson said he "was hoping that you could confirm that the laptop is indeed authentic and not Russian disinformation as you seemed to suggest on Twitter last year."

Psaki's answer? She was even less interested: "And, as it relates to the book, I have neither had the time nor interest in exploring or reading the book."

Nelson attempted to follow up, but Psaki wanted to go to the next reporter, arguing she had "answered your question" and reiterated he "can go to the representative of the person who's not an employee of the federal government."
Houck didn't mention that Nelson was shilling for his employer -- Devine is a fellow New York Post writer -- or that the Post is a right-wing newspaper owned by Fox News owner Rupert Murdoch.
Houck had another Doocy-less briefing on Dec. 7, but he found another Fox reporter to crush on for pushing her employer's anti-Biden talking points:
Tuesday's White House press briefing was jam-packed amid Russian troops gathering on the border with Ukraine and a high-stakes call between President Biden and Russian dictator Vladimir Putin, so it was a welcome sight when Fox's Jacqui Heinrich and others highlighted the U.S.'s acquiescence to Russia on the Nord Stream II pipeline, Biden's lack of public comments about the tensions, and whether he'll handle it differently than Afghanistan.

Following lengthy remarks and a Q&A with National Security Advisor Jake Sullivan, CBS's Nancy Cordes set up Press Secretary Jen Psaki by wondering whether the White House has "put plans in place in case Americans in Ukraine need to be evacuated quickly."

[...]

As for Heinrich, she had two questions about Nord Stream II with one pertaining to whether the administration regrets greenlighting it and about whether they believe Russia is "using gas as a geopolitical weapon."

[...]

Heinrich ended with a question on rising crime and specifically whether the White House agrees with Congresswoman Alexandria Ocasio-Cortez (D-NY) that claims of a rise in smash-and-grab robberies are fake news:
Related articles on ConWebWatch:

Curtis Houck's War On Jen Psaki (And Man-Crush On Peter Doocy), The Series:
Then, for unexplained reasons, Houck took the rest of the week off. Perhaps Psaki-bashing isn't enough if he can't also engage n Doocy-fluffing?

After nearly a week's break, Houck returned for the Dec. 13 briefing with more of the same gushing over Doocy for pushing right-wing narratives:
On Monday's abbreviated edition of The Psaki Show, Fox's Peter Doocy came prepared (as always) with tough questions many of his colleagues refuse to ask, focusing this day on issues pertaining to the cost of the Biden administration's Build Back Better (BBB) boondoggle, whether Vice President Harris is still in charge of combatting illegal immigration, and the role of liberal prosecutors contributing to rising crime.

Doocy led with BBB and whether President Biden would support the bill's host of new social programs being "made permanent" despite the fact that, as per a new score from the Congressional Budget Office (CBO) in which "they assume that social programs are going to be made permanent and, in that case, it would add almost $3 trillion."

Psaki roundly dismissed it, repeatedly calling it "a fake CBO score" since it's "not based on the actual bill" led by an ask of the CBO by Senator Lindsey Graham (R-SC) (whom Psaki first referred to as a woman in a Freudian slip).

[...]

Closing with the terrifying issue of rising crime and smash-and-grab robberies, Doocy posed to Psaki a basic question: "Do you think it's possible that big cities are dealing with these smash and grab robberies right now, an increase in criminal activity because some prosecutors are too soft on crime?"

Psaki said she wouldn't "attribute the reasoning from here," but she did the opposite as, before talking about the White House's focus on "ensuring local police departments and cops have the funding they need," she blamed the coronavirus as "we have seen an increase of crime over the course of the pandemic."

Doocy followed up by blowing holes in this argument: "[W]hat good does it do if you're going to give police departments extra money if they arrest bad guys and they bring them to jail and then they're not prosecuted. They're just right back out on the streets."

After she doubled down on her previous answer, Doocy questioned whether Biden believes it's "good governing" for those running New York City to have cases like "pickpocket[er] with more than 30 arrests" and the suspect in the burning of the $500,000 Fox Christmas tree both being allowed "back out on the streets."

Psaki wanted nothing to do with this, stating she already had "spoke to the President's concerns about retail theft."
The Doocy-gasms continued for Houck for the Dec. 14 briefing:
Hours before Press Secretary Jen Psaki's lame attempt at humor, Tuesday's White House press briefing similarly featured moments of stupidity as liberal journalists hit Psaki from the left on gun control, January 6, cutting back holiday parties due to Covid, and, worst of all, the dark red voting tendencies of Kentuckians who lost their homes in violent tornadoes. However, it wasn't all lost as Fox's Peter Doocy brought the heat on Afghanistan and crime.

Doocy didn't waste time in cutting to the chase after being called on: "Why is it that there are still Americans stranded in Afghanistan?"

Psaki insisted the U.S. has kept its promise to "help" any American "get out" seeing as how, since the country's collapse, "we've directly assisted 479 American citizens" and "450 lawful permanent residents and SIV holders and SIV applicants" in "depart[ing] Afghanistan."

Doocy pushed back, repeatedly noting that "479 left behind is a lot higher than the 100 to 200 that President Biden was talking about at the end of August."

[...]

With his remaining time, Doocy went back to what she's said about rising crime having come during "the pandemic" via "a range of reasons." "Would you consider one of the reasons in the range prosecutors who are cutting people who are accused of many criminal offenses loose too quickly," he asked.

Psaki demurred, arguing she wasn't going to analyze the reasoning other than tie it to the pandemic.

Doocy's final line of questioning stemmed from "reports that these smash and grab robberies are being organized on social media platforms" and whether "the administration is doing anything about that."
After praising other right-wing reporters, Houck whined that a non-right-winger asked a question: "At the other end of the spectrum of insightfulness, Bloomberg's Nancy Cook inquired about any plans for the White House "to commemorate January 6" (because everything has to be about January 6 for the media)."
Houck didn't check in again until the Dec. 23 briefing, which he started by insisting that his repeated references to "The Psaki Show" during the year weren't derogatory (after all, we don't recall him dismissing any of Kayleigh McEnany's press briefings as a "show" despite having shown much more affection for her than he has ever demonstrated toward Psaki):
Affectionately referred to here as The Psaki Show, Thursday featured 2021's final White House press briefing and it served as solid encapsulation of the year as Fox's Peter Doocy tangled with Press Secretary Jen Psaki on a variety of issues (with Covid and crime on Thursday's docket) mixed in with other reporter questions that ranged from solid to inoffensive to boring to hitting from the left.

Doocy began by wishing Psaki a "Merry Christmas" and then got right to the questions: "So, why is the President saying about this new variant, 'nobody saw it coming, nobody in the world' if that's not true?"

Instead of trying to clean up what Biden said, Psaki largely doubled down by saying "how transmissible they would be," or "what they would look like," so they've spent this year "preparing for a range of contingencies."

Drilling down on the questionable nature of that last part, Doocy wanted to know "why" has the administration "propos[ed] 500 million tests next month if you haven't even signed a contract to buy the tests."

Psaki went on for a little while and insisted there's "no concern about the contract being finalized" since "[w]e just announced" the ramp-up "two days ago," so Doocy made sure to follow-up:

[...]

Before calling it a year on his end, Doocy asked two questions about crime in light of Congresswoman Mary Gay Scanlon (D-PA) being carjacked on Wednesday in south Philadelphia[.]
And with that, Houck also called it a year as well on his biased briefing hackery. He did, however, serve up one last bit of obsequiousness in a Dec. 30 post recounting "Peter's Top Briefing Room Tangles With Jen Psaki in 2021." That branding, though, clashes with his insistence that Doocy was "respectfully challenging an administration," unlike what enemy of the MRC Jim Acosta purportedly did during the Trump years. Houck then praised other right-wing reporters for asking "cordial yet probing questions" while refusing to admit their right-wing bias.
Needless to say, Houck didn't mention that time he stealth-edited one of his briefing articles to cover up the fact that Doocy pushed a false story at Psaki.
The latest from