MRC Denies Conservatives 'Triggered' By Biden-Doocy Kerfuffle -- As It Spends Days Covering It
Topic: Media Research Center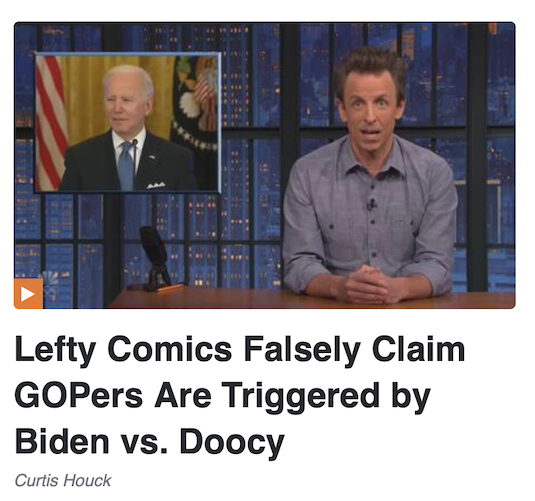 The Media Research Center just couldn't get enough of the kerfuffle over President Biden calling sainted Fox News reporter Peter Doocy -- so much, in fact, we couldn't contain it in only one post. Picking up from where we left off: Tim Graham spent his Jan. 26 podcast insisting that the kerfuffle "is not tthe biggest thing in the world ... it's kind of a one-day story," even though by this time the MRC was on Day 3 of writing about it, and Graham's podcast was the 10th NewsBusters post referencing it. He then gave a pass to Donald Trump calling NBC's Chuck Todd a "sleeping son of a bitch" because he purportedly did it "to get laughter and claps at a rally," going on to whine that journalists think they're immune from criticism. This from a guy who runs an organization taht repeatedly runs to the defense of Fox News because it thinks the channel should be immune from criticism.
Keeping up that pattern, Graham lashed out at people like Seth McFarlane and Jimmy Kimmel for criticizing Doocy (he's immune from criticism like every Fox News employee, after all). He then defended Doocy as polite in his right-wing biased, especially compared with longtime MRC enemy Jim Acosta: "Peter Doocy is no Jim Acosta. Jim Acosta was the guy who said obnoxious things. Peter Doocy asks questions, and he generally asks questions respectfully. He's a lot more respectful of Joe Biden than Jimmy Kimmel's been ever resectful of anybody with an R after their name." He then rehashed the MRC's earlier false attack on CNN's Jake Tapper for saying Fox News wouldn't come to his defense by citing examples of Fox News defending CNN -- but Tapper didn't reference defending CNN, just himself.
In the 11th post referencing the story, on the fourth day of the MRC covering, Curtis Houck devoted a Jan. 27 post to bashing NBC's Seth Meyers for arguing that Republicans have been "triggered" by the Biden-Doocy story:
Even though President Biden and Fox White House correspondent Peter Doocy have both moved on after the former called the latter "a stupid son of a bitch" on Monday, ABC's Jimmy Kimmel and NBC's Seth Meyers decided on Thursday to spend nearly 15 minutes falsely claiming that the Republican Party has spent the week obsessing over Biden's expletive when, in reality, it's the far-left "comics" who seem to have nothing else to talk about.
Later that day, P.J. Gladnick grumbled that a Politico piece argued that Biden should do more trash-talking: "Right now Joe Biden and his administration are deeply unpopular . So how to reverse this situation? Return to enforcing immigration laws at the border? Cut wild spending in order to rein in inflation? Open up the Keystone pipeline and encourage drilling to lower the cost of gasoline? Naw! The secret is... TRASH TALK!"
On day 6 of the MRC's coverage, Graham devoted his Jan. 28 column whining about the kerfuffle he earlier insisted was just a one-day story:
When Joe Biden called Fox News correspondent Peter Doocy a "stupid son of a bitch," he didn't need to borrow from a speechwriter. But he's not "well-equipped" to demonstrate decency or empathy to a journalist who isn't obsequious to him.

[...]

When Trump called the press "fake news" or mocked individual reporters as terrible people, Jim Acosta & Co condemned this was not only somehow undemocratic, but would lead to violence against reporters. The problem with Biden's angry cursing at Doocy is that it violates that campaign promise of decency. It also allows conservatives to remind liberals that this used to be painted as a violence-inducing offense against the First Amendment.

People sticking up for Doocy don't have to insist that Trump was civil with reporters. It's just that they all pretended Biden was going to be so much more "pro-press," which is transparently false, both in tone and in media access.
Even more than a week later, Graham couldn't let this"one-day story" go.In a Jan. 31 post, he whined that a New York Times reporter called it s feel-good monent," huffing further: "The most annoying part of this spin is how it exploits Doocy's willingness to shrug it off, and not pose righteously as some sort of Wronged Statue of Liberty like Jim Acosta." And on Feb. 3 -- 12 days after the story began -- Graham cranked up the whining in the 14th post referencing it, this time over a game show referencing the story:
National Public Radio airs a weekly game show on Saturdays called Wait! Wait! Don't Tell Me! Over the years, we've found liberals on that show making fun of ads promoting Jesus and church-going, smearing George W. Bush as a White House drunk, and playing along as Obama adviser David Axelrod "joked" that socially conservative Miss California Carrie Prejean was tried out for White House dog. The latest episode included jokesters adoring President Biden calling Fox News correspondent Steve Doocy a "stupid son of a bitch."

Regular host Peter Sagal was off, so they replaced him with Negin Farsad, an Iranian-born Muslim comedian -- oh, but she defines herself as a "social justice comedian." That's apparently the funniest kind.

The first game was called "Who's Bill This Time?" Announcer Bill Kurtis -- formerly an anchor for CBS News -- impersonates a public figure saying something in the news. So they started with "stupid son of a bitch," and predictably, the liberals joked that many thousands of people agree Doocy is an idiot:

[...]

The panelists then made jokes about Biden's angry insult. Josh Gondelman, who writes comedy for Desus & Mero on Showtime, said "I was surprised. Like, I feel like Joe Biden's public persona is so folksy. Like, you could run over his foot with a motorcycle, and he'd just be like, 'taffy on a stick,' you know?"

Alzo Slade of Vice News added "I feel like Joe Biden is that old dude that just can say whatever he feels like saying, and because... Of his age, nobody is going to care. It's like, yeah, just - you know, that's Uncle Joe. Just let him be. And sometimes you got to call it like it is. If you think he's a son of a [expletive]..."

This is exactly how the liberal media have dismissed Biden's gaffes -- isn't Uncle Joe a character?
Remember, Graham is the guy who gets mad that right-wing satire site Babylon Bee gets fact-checked (but hides the fact that it gets fact-checked because right-wingers have a bad habit of present ingits satire as fact).
Graham concluded by adding, "NPR is paid for by ... you." But he offered no proof that any tax money actually went to the show's production.
Posted by Terry K. at 8:58 PM EST