WND's Zumwalt Declares That Biden Is Not His President
Topic: WorldNetDaily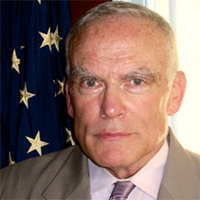 We've previously noted that WorldNetDaily made a big deal of complaining that some liberals declared that Donald Trump was not their president -- despite the fact that editor Joseph Farah had made a big deal of declaring that Barack Obama was not his president. Now the not-my-president is swinging back, if James Zumwalt's Aug. 27 WND column is any indication:
While we live in a time when many Americans will not admit it, I will: I love my country. Through good times and bad, good presidencies and bad, that love has never diminished. One generation of family member after another – from Jacob Zumwalt who served during the American Revolution to my son's 21st century service in Iraq as a bomb technician – attests to this love by voluntarily serving in uniform.

As a veteran who served for over a quarter of a century, I never thought I would say this about a commander in chief, but the terrorist bombing at the Kabul airport that claimed 40 lives, including at least 13 of our brave warriors, leaves me no choice. It is love of country and all those serving to protect her who have needlessly, callously and intentionally been put in harm's way with no rational basis for doing so that forces me now to declare: "Mr. Biden, you are not my president."

I do this with deep concerns. Every president before Biden making a bad decision did it with the same love of country many of us harbor. But Biden's outrageous actions, both in opening up our borders and rushing to withdraw from Afghanistan, is senselessly claiming American lives.

[...]

Biden need take no further action to demonstrate the fact protecting American citizens and our military from danger is not his priority. Because he rejects this responsibility, evidenced by a disgraceful withdrawal that leaves an enemy behind that is stronger than ever before while subjecting our warriors to greater risk both now and in the future, Biden commits a dereliction of duty for which I no longer consider him my president.
Zumwalt sounds like a fair-weather patriot, supporting the country only when his fellow right-wing ideologues run it. But given how many bogus election fraud conspiracies he has spouted over the past several months, it seems very likely that Zumwalt actually decided well before this that Biden was not his president.
Posted by Terry K. at 12:48 PM EDT