CNS Unemployment Coverage Distortion Watch, Coronavirus Edition
Topic: CNSNews.com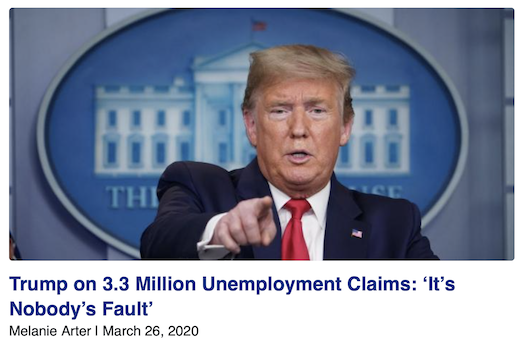 We've documented how CNSNews.com has been gushing over every monthly employment report under the Trump administration (as long as it was good). With the unemployment spike driven by the coronavirus, how was CNS going to play that in a Trump-friendly way?
First, it tried to make sure he wasn't to blame. AFter the first surge of 3.3 million new umemployment claims, Melanie Arter served up a shrug emoji of an article headlined "Trump on 3.3 Million Unemployment Claims: 'It's Nobody's Fault'."
CNS then spent the following few days before the monthly employment numbers preparing readers for the worst (and, of course, shielding Trump from blame). An April 1 column by Allison Schrager of the right-wing Manhattan Institute claimed this was all goibng as planned, as summarized in the headline "High Unemployment Numbers Show the CARES Act Is Doing Its Job." That was followed by an article by Susan Jones noting that as bad as the March numbers will be when they come out, they only reflect the pay period that includes the 12th of the month, which was "was one day before President Trump declared a national coronavirus emergency; and three days before the Centers for Disease Control and Prevention recommended that Americans avoid gatherings of 50 or more people, thus accelerating the economic squeeze." There was also a gloomy article by Michael W. Chapman with poll finding on how many people have seen their hours cut.
When the numbers did come out, Jones reverted to her old Obama-era obsession with the labor force participation rate -- not surprising, perhaps, since it "increased by 1,763,000 to a record 96,845,000 in March." She still worked in some pro-Trump rah-rah, stating that "After breaking 25 records under President Donald Trump--most recently in December 2019--the number of employed Americans dropped sharply in March, to 155,772,000."
The usual sidebars similarly stuck a little pro-Trump rah-rah in as well. Craig Bannister's article on Hispanic employment copy-and-pasted Jones' reference to the "25 records under President Donald Trump," while Chapman's item on black unemployment (the first time in months that statistic has been referenced) spun hard by claiming that "the 6.7% unemployment rate for African Americans is still historically low ... In other words, the Black unemployment rate in America was higher than 6.8% for 46 years. Only editor in chief Terry Jeffrey's item on health care employment didn't mention or allude to Trump.
Posted by Terry K. at 1:03 AM EDT
Updated: Friday, January 29, 2021 10:10 PM EST