WND Writer Pretends His Attempt At Evangelism Isn't 'A Message About Religion'
Topic: WorldNetDaily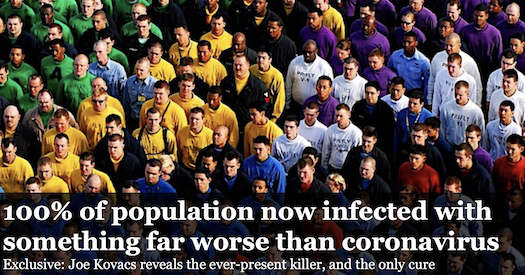 Joe Kovacs is one of the very few remaining WorldNetDaily employees, so he's still down with the deceptive WND way. He began an April 5 article this way:
As the entire world battles the coronavirus pandemic, there is a much greater threat affecting every single person on this planet.

Its infection rate is 100%.

There is no length of social distancing or any face mask that can prevent you from catching it.

There's no need to be tested, because you've got it already.

Not only do you yourself have it, so do your parents, spouses, children, siblings, friends, enemies, colleagues and neighbors.
Sure sounds scary. Except that it's a bait-and-switch, as he eventually concedes in the 10th paragraph: "The calamitous condition from which we all suffer is called mortality."
In other words, Kovacs is about to launch into a sermon. The funny thing is, he denies that he's doing so, insisting, "This is not a message about religion. This is a message about life and death." But it's clear this is very much about religion, since he references only one in his attempt at evangelization:
If we take even a cursory glance at the Bible, the source of truth irrespective of whether you believe it, we can see this amazing good news plastered everywhere.

"Jesus continued going around to all the towns and villages, teaching in their synagogues, preaching the GOOD NEWS of the kingdom, and HEALING EVERY DISEASE AND EVERY SICKNESS." (Matthew 9:35 CSB)

Every physical healing by Jesus is simply an illustration of our ultimate healing, when our mortal, physical bodies of flesh and blood will be changed instantaneously into an immortal body, that will no longer be withering away.

As Paul famously said:

"Flesh and blood cannot inherit the kingdom of God, nor can corruption inherit incorruption. ... the dead will be raised incorruptible, and we will be CHANGED. For this corruptible body must be clothed with incorruptibility, and this MORTAL BODY must be clothed with IMMORTALITY. (1 Corinthians 15:50-53 CSB)
Yeah, nothing says "this is not a message about religion" than quotes from the Bible in all-caps and boldface.
At one point Kovacs writes, "God's commandments are just that, commands. They are not suggestions. We actually have to stop sinning -- which is the breaking of God's laws -- and repent, meaning to turn around and go in the opposite direction." But as we've noted, nobody at WND has ever repented of the false and dishonest -- and, thus, commandment-breaking -- reporting they have perpetrated over the years, despite being claiming to be such uber-Christians.
Kovacs concluded by writing:
I don't wish to minimize the seriousness of coronavirus. But the pandemic is just the latest attention-getter from God, showing that disobedience to His way of life results in death. Believers are indeed saved by God's grace, which is underserved, but we need to make every effort to get sin out of our personal lives.

A fraction of all human beings who ever existed will die from COVID-19.

But every single person who does not stop his or her personal rebellion against the Maker of all things and repent of his or her own sins will remain infected with something far worse than coronavirus: being dead forever.
Of course, Kovacs never thinks coronavirus was sent by God to test the self-proclaimed piety of uber-Christians like himself. If he was truly repentant, he wouldn't still be working for WND.
Posted by Terry K. at 1:03 AM EDT
Updated: Monday, April 13, 2020 1:40 AM EDT