Following Orders, MRC Slavishly Pushed Trump's 'Chinese Virus' Narrative
Topic: Media Research Center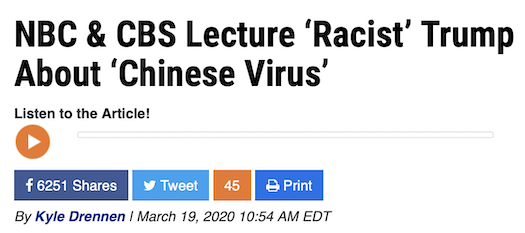 Like its "news" division CNSNews.com, the Media Research Center proper latched on to President Trump's insistence (for about a week) on labeling the coronavirus the "Chinese virus." And like a local Trump apparatchik, the MRC declared Trump to be perfect in his assessment and attacked or mocking anyone who dared questioned dear leader -- and issued blanket denials that anyone was inspired to commit violence against Asian Americans because of it.
And just as Hays was seemingly disappointed that Trump backed off on the "Chinese virus" narrative, so did the MRC after that. They're slavishly in lockstep with the president, after all, and they no longer had a narrative to push.
The MRC follows orders well, doesn't it?
Posted by Terry K. at 9:09 PM EDT