WND Columnist Gushes Over Putin's Russia
Topic: WorldNetDaily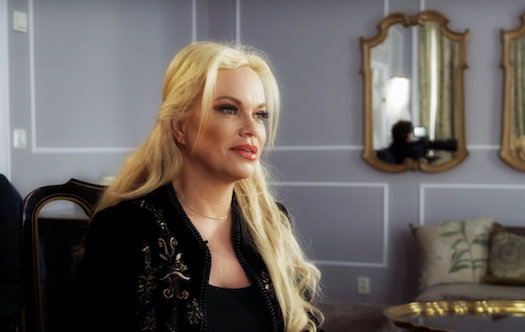 A few years back, we noted how WorldNetDaily columnists were demonstrating their love for Valdimir Putin's Russia, what with the anti-gay crackdowns, the squelching of dissent and the ogling over the manly specimen that is Putin. That love affair hasn't really abated.
'Hanne Nabintu Herland devoted her July 3 WND column to gushing over Russia, delcaring that "Over 80 percent in the former atheist USSR now believe in God, >probably constituting the greatest revival of Christianity in our time," while "somehow the left in America got so tired of individual freedom and the Constitution, they now crave to become a socialist state where the elite has total control over national revenues, the media, the public, the universities." She copntinued to gush:
So, today Russia is a traditionalist, religion-friendly, capitalist society that remembers its history and honors its historic heroes: the precise values that makes the American establishment and its mainstream media puke. Russia's turn from Leninism to Christian Orthodoxy has largely happened under president Vladimir Putin, who is so demonized in the atheist Western press that it is almost impossible to Google his name and find unbiased facts.

In the U.S., very few are even aware of the massive revival that is happening in Russia as millions have turned to their cultural roots in Eastern Orthodoxy in the past years. 25,000 churches all over Russia, Putin on repeated pilgrimages to Mount Athos in Greece and so on.
Actually, Putin's Russia is a crony capitalist system run by oligarchs with Putin's blessing (and profiting off the scheme) that suppresses dissent, sometimes violently, as LGBT activists have discovered. And Herland describing Russia as "religion-friendly" ignores that pretty much the only religion it's friendly to is the Russian Orthodox Church, effectively the state religion, and is hostile to even other Christian religions.
Herland did aver that "Russia is far from perfect, still battling corruption, elitism and its own vices," but she didn't mention Putin's role in said corruption and elitism; she was too eager to return to gush mode over how "an address by President Putin at the 2013 Valdai Summit illustrates the million miles between the borderless relativism most Western politicians seem to promote and the Russian way of thinking."
Posted by Terry K. at 1:41 AM EDT