MRC's Graham Nitpicks Over Trump Crossing 10,000-Falsehood Threshold
Topic: Media Research Center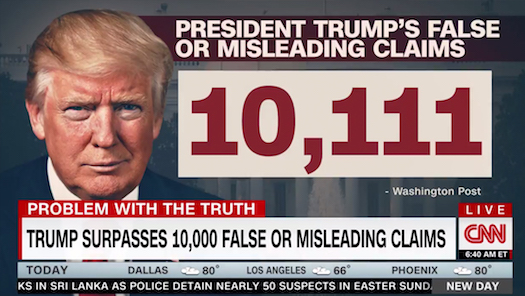 The Media Research Center's Tim Graham spent an April 30 post complaining that the Washington Post had counted 10,000 false or misleading claims made by President Trump. At one point he groused that "Trump haters quickly say '10,000 lies' instead of the milder 'false or misleading statements' line. 'Facts First' types messed up."
Of course, Graham may as well be talking about himself -- he's just as sloppy about the distinction between the two. Back in 2008, Graham got mad at us for pointing out that his insistence that Hillary Clinton should have been indicted for making what were found to be false statements in the White House travel office controversy runs counter to the findings of the independent counsel, which brought no charges because there was no evidence the statements were deliberately false.
Graham then expanded his complaint into a column for Brent Bozell to slap his name on. They handwaved Trump's history of lies, then portrayed the count as a liberal conspiracy: "Everyone knows the president can unload a whopper, like when he recently suggested of wind turbines, 'they say the noise causes cancer.' But the Post's 10,000 is a Democratic Party talking point, a marketing strategy to build a liberal subscriber base." Graham and Bozell then provide a list of reasons why the list means we shouldn't take the Post seriously. Most of it is your usual anti-media whining -- two of the five items on the list are about whining that Post fact-checker Glenn Kessler is "nitpicking" -- but this one stood out to us:
4. Lack of transparency. The Posties have dramatically increased the rate of the "false claims" it is finding. In announcing the 10,000 number, it claimed, "the president racked up 171 false or misleading claims in just three days, April 25 to 27." It admits that's a bigger number than it used to find in a month.

It claims Trump has literally said a falsehood a minute, counting 45 in a 45-minute Sean Hannity interview, 17 falsehoods in a 19-minute Mark Levin interview and 61 false claims in the president's Saturday night rally in Green Bay, Wisconsin. But the Post doesn't list them individually so you can check its work.
Funny, that's the same exact complaint we've repeatedly made about the MRC's so-called "media research" -- it almost never makes public the raw data it uses to reach its almost preordained conclusions.
Graham and Bozell are effectively complaining that the Post's research standards are the same as the MRC's. That doesn't seem like a smart argument to make.
Posted by Terry K. at 1:00 AM EDT